Christine White: Heroine From a Classic 'Twilight Zone' Episode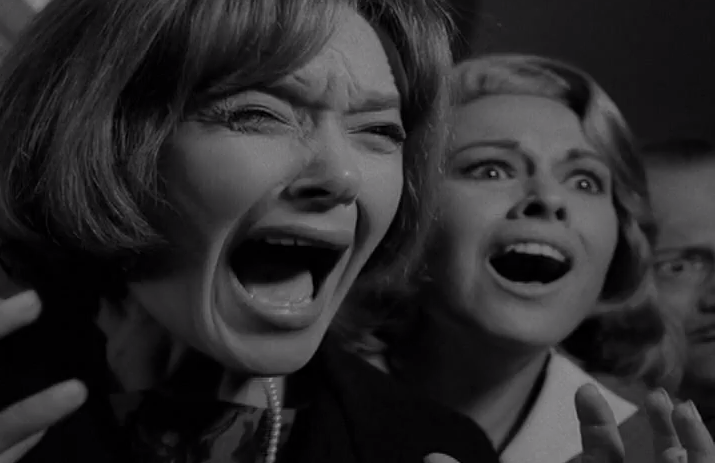 Actress Christine Lamson White, who died on April 14 at age 86 in Washington, D.C., racked up an impressive 53 appearances in TV series and made-for-TV movies during a career that stretched from 1952 to 1976, including roles on hit programs such as The Fugitive, Bonanza, The Untouchables and Perry Mason. She also had a small role in a 1973 Clint Eastwood action movie hit, Magnum Force.

But White remains best known as the wife who sat next to a then-youthful William Shatner on an airliner in a classic 1963 episode of The Twilight Zone, " Nightmare at 20,000 Feet," in which Shatner's character sees a monster on the wing that apparently only he can perceive.


White's character, Julia Wilson, was the wife of Robert Wilson (Shatner), who had recently been discharged from a "sanitarium" after suffering a mental breakdown - on an airplane, as his bad luck would have it. As a New York Times obituary of White recounts, her signature moment came at the beginning of the episode, when she utters these fateful lines:

"Honey, you are cured. That Dr. Martin wouldn't let you fly if you weren't - would he?"
White's character spent most of the rest of the episode dozing peacefully on her husband's shoulder, thanks to a dose of sleeping pills. But the episode itself became so renowned that it was not only expanded into a movie, but also parodied on TV programs such as Saturday Night Live, 3rd Rock From the Sun and The Simpsons.

Some other interesting facts about White:

She began acting in plays while attending the University of North Carolina, where she studied English.
She reportedly was romantically involved with actor James Dean in her youth, and her final role was in a 1976 made-for-TV movie about him.
She appeared in the 1973 movie Magnum Force as a woman who flirts with Clint Eastwood's character Harry Callahan.
She eventually left acting and returned to her native Washington, D.C., to take care of her elderly mother. During that time, she produced and distributed a quarterly bulletin, The Rampart Papers.


Also of Interest

Join AARP: Savings, resources and news for your well-being


See the AARP home page for deals, savings tips, trivia and more