Could a $30 Million Surprise Be Hiding in Your Garage?
By Patrick Kiger, March 7, 2013 05:27 PM
You never know what you're going to find in that pile of old stuff that's accumulated in your garage. If you're lucky, you could discover some forgotten treasure, like an antique mirror that used to belong to your Aunt Sophie, or a collection of vintage copies of Life magazine.

Or, if you're really lucky, you might find a bunch of paintings by the late Armenian-American abstract-expressionist Arthur Pinajian that turn out to be worth $30 million.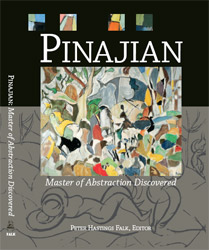 As Newsday reports, that's what happened to two real estate investors, Thomas Schultz and Lawrence Joseph, who a few years ago bought a bungalow in Bellport, N.Y., where Pinajian had lived before his death at age 85 in 1999, from his relatives. Schultz and Joseph paid $300,000 for the house, which they intended at the time to flip for a quick profit. The subsequent real estate market collapse put the kibosh on that plan.

But while inspecting the house's garage, Schultz came across piles of paintings, in addition to sketches and the artist's journals, mixed in with trash. The sellers apologized for leaving a mess and offered to pay for a dumpster. But Schultz was hesitant to toss out the artist's work, and instead showed some of it to art experts. Since then, a few of the paintings have been sold by galleries in New York and California for $500,000 - more than the house itself was worth. An exhibit of Pinajian's work is currently on display at the Fuller Building in Manhattan.

The rediscovery of Pinajian's work has shed light on his odd and fascinating life story. According to an article in Yerevan, an Armenian-American magazine, Pinajian was born in 1914 to immigrant parents who'd fled the Turkish genocide. After graduating from high school, he became a freelance illustrator and drew and wrote stories for comics publishers such as Marvel. (One of his characters, Madam Fatal, apparently was the first cross-dressing superhero.) In 1943, his promising career was interrupted when he was drafted into the U.S. Army. Pinajian served in the 102nd Infantry Division and earned the Bronze Star for valor during the Battle of the Bulge (Schultz found his medal among the rubbish).

Pinajian's wartime experiences apparently affected him powerfully. On returning home, he gave up his career as an illustrator and became a fine-art painter. He sold little of his work during his lifetime and relied on his sister, a secretary, for financial support, according to a 2007 New York Times article. In the 1970s, the two siblings, neither of whom ever married, moved into the house in Bellport. "He thought he was going to be the next Picasso," a cousin, John Aramian, told the Times. "They believed he would become famous and this would all pay off for them one day, but it just never happened. So he became frustrated and withdrew from everything and just painted."

The disillusioned artist gave his sister instructions that, upon his death, she should throw away the 70 years worth of artwork that he'd packed into the garage. She tried to do that, but a relative intervened at the last moment and turned back the truck. But over time, apparently, everyone forgot about Pinajian's collection until after his sister's death and the house's sale, when it was rediscovered by Schultz.

Before art historian William Innes Homer passed away last year, he evaluated Pinajian's work and came to the conclusion that the painter was a "flawed, yet brilliant, artistic genius. When he hits the mark, especially in his abstractions, he can be ranked among the best artists of his era."

Here is a selection of Pinajian's work.