Dale Robertson: 8 Facts About the Star of TV Westerns
By Patrick Kiger, March 2, 2013 08:51 AM
The knock on the first big cowboy actor, silent movie era star Bronco Billy Anderson, was that he was more actor than cowboy; in real life, he barely could even sit on a horse, let alone ride one. Dale Robertson, a star of TV Westerns in the 1950s and '60s, didn't have that problem.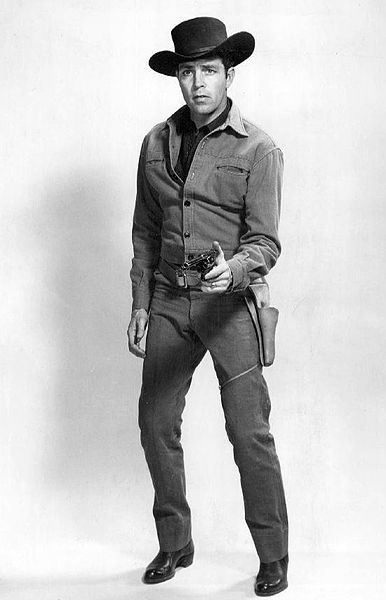 Robertson, who died on Feb. 27 at age 89 in San Diego, wasn't some fancy-pants actor who spent his formative years honing his emotive skills and learning to play rugged. To the contrary, he never studied acting at all. Instead, he grew up on a ranch in Oklahoma, where he became a skilled rider by age 10 and spent his teens training horses before he went off to serve in the Army in World War II.

As an actor, he appeared in nearly three dozen movies between 1948 and 1970. But his real forte was the small screen, where his most famous role was that of Jim "Left-Handed Gun" Hardie, who protected stagecoaches from outlaws and Indians in the classic Western series Tales of Wells Fargo, from 1957 to 1962.

Here are eight intriguing facts about Robertson:



Robertson served as a first lieutenant in the 322nd Combat Engineer Battalion, part of Gen. George Patton's 3rd Army Command, and saw action in North Africa and Europe. He was wounded by German mortar fire late in the war, according to a 2002 profile in American Cowboy magazine. Though his awards included the Silver Star, the Bronze Star and the Purple Heart, he was modest about his battlefield heroism. "I think that any man there would deserve the same thing," he said in a 1987 interview.

Robertson became an actor completely by accident. According to the New York Times, while he was in the Army and stationed in California, he went to a photo studio in Hollywood so that he could have a portrait taken to give to his mother. The photographer liked the result so much that he displayed it in his studio window, where it was spotted by talent agents.

He got an early boost in his career because he bore a physical and vocal resemblance to Clark Gable, which Robertson himself had trouble detecting. "I never could hear it, except once in a great while," he explained to American Cowboy. "He [Gable] spent a lot of time up here in Tulsa, so he had an Oklahoma accent."

Robertson estimated that about 70 percent of his movie work was in Westerns, in films such as 1949's Fighting Man of the Plains and 1952's The Outcasts of Poker Flat. Oddly, however, his first role was an uncredited performance in the 1948 fantasy The Boy With Green Hair.

Though he famously had no acting training and was never known for his thespian skills - "Nobody's ever mistaken me for Ronald Coleman," he once joked - and he had a dim view of formal acting training. The only East Coast drama school graduate who really impressed him, he once noted, was Robert Duvall. "He didn't lose his personality," Robertson told American Cowboy. But Robertson did work hard at learning other aspects of the screen trade. While acting in films and TV, he took movie-making classes at the University of California, and continued to study editing, cinematography and musical scoring with Hollywood veterans.

Robertson nearly turned down the role of Jim Hardie in Wells Fargo because he was going to make movies in Mexico instead. But producer Nat Holt kept bugging him to do the pilot, so he finally agreed. The initial script, Robertson later recalled, "was so bad that nobody would buy it anyway." He ended up helping in a major reworking of the concept, including dreaming up the distinctive detail of having Hardie draw his gun and shoot left-handed, and NBC bought the series. Robertson eventually quit in 1962 because he balked at his producing partners' desire to expand the show to a full hour and add additional characters.

Robertson also starred in the western series Iron Horse from 1966 to 1968, and played an eccentric detective who roamed the country in a Lincoln Continental emblazoned with steer horns in the series J.J. Starbuck in 1987-1988. He also had regular roles in Dynasty and Dallas in the early 1980s.

In retirement, Robertson went back to raising horses. At Haymaker Farms, the ranch he established north of Yukon, Okla., he had 235 horses, and his mares produced five equestrian champions, according to a 2012 Oklahoma Gazette article.


Here's the opening sequence of Tales of Wells Fargo, accompanied by commercials that Robertson did for the sponsor, Pall Mall cigarettes: