David Brenner: The Comic Who Made Everyday Life Seem Funny
By Patrick Kiger, March 17, 2014 10:02 AM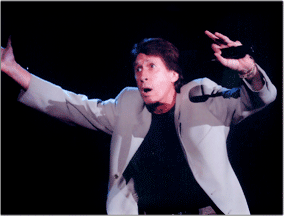 As a stand-up comic, David Brenner's trademark line was "Did you ever notice ... ?"

Brenner, who died on March 15 at age 78 in New York City, made his living calling the myriad absurdities of everyday life to our attention - "the dumb things we say and do," he once put it.

Brenner, in fact, could get an entire routine out of, say, the frustrations that drivers experience when they have to ask for directions. Here he is, doing that bit on The Tonight Show in 1971:




>> Sign up for the AARP Health Newsletter 

If Brenner's style of humor seems old hat now, it might be because it was so widely copied by such comedians as Jerry Seinfeld, Paul Reiser and Garry Shandling. "Fellow comedians never actually pilfered his jokes," entertainment reporter David J. Spatz once observed. "They went one better:"© They stole his whole damned format."

Though Brenner flunked his first audition for The Tonight Show, in time he became such a favorite of Johnny Carson that he frequently appeared as a substitute for him when Carson was away and racked up 158 appearances on the show. Here's his monologue from one of his guest-host gigs in the early 1980s.


Here are some facts about Brenner and his career:



Brenner's father, a vaudeville song-and-dance man and comedian, gave up performing because his own father, a rabbi, didn't want him working on the Sabbath, according to the Hollywood Reporter.
After serving in the U.S. Army and graduating from Temple University, Brenner started out as a writer and director of television documentaries on subjects such as poverty. But he gave that up because his work never seemed to result in change. "I decided rather than try to solve problems," he explained in an interview with the Philadelphia Jewish Voice in 2008, "I would help people forget 'em."
Brenner made numerous appearances as a celebrity judge on The Hollywood Squares and other TV game shows. He briefly hosted his own late-night show, Nightlife, in the mid-1980s.
Later in his career, on the Fox News Channel and HBO's Politically Incorrect, Brenner skewered politicians for tailoring their speeches to the ethnicity of their audiences.
He went through with a scheduled performance at the Golden Nugget hotel and casino in Las Vegas on the evening of the September 11 attacks, telling the audience: "I

f you can laugh, you can live. And that means we are going to get through this."
Brenner was featured in the 2005 documentary

The Aristocrats

, in which 100 comedians tried telling the same off-color vaudeville-era joke.
Brenner played himself in an episode of Modern Family in 2010.
Brenner once told an interviewer that he gave little thought to how he would be remembered as an entertainer. "I want to be remembered by my three sons as well as my father is remembered by me," he said. "And then after that, I don't care."


>> Get travel discounts with your AARP Member Advantages.

Here's an interview that Brenner did with CBS News This Morning in 2013.




Photo: www.davidbrennersite.com



Also of Interest



See the AARP home page for deals, savings tips, trivia and more