Doris Sams, inspiration for A League of Their Own
I never heard of Doris Sams until she died last week at age 85.

And yet I owe her a huge debt. So does my daughter, and so do lots of little girls who grow up dreaming of playing baseball.

Doris lived A League of Their Own as a superstar for 8 years in the All-American Girls Professional Baseball League - the circuit immortalized in the 1992 film. She pitched a perfect game; she won a batting title; she led the league in home runs. You could make a case that she was the Babe Ruth of professional women's baseball.

And she is, for all her exploits, unknown to today's baseball fans -- who think of the stars of women's baseball as Madonna; Geena Davis; Rosie O'Donnell; even Tom Hanks. But the real-life players who were the inspirations for the characters played by those stars in A League of Their Own lived their lives out quietly, even anonymously, after the league folded in 1954. Doris Sams went back home to Knoxville, where she worked for the local Utility Board for 25 years.

Her legacy? Girls like my daughter, who is 11 years and plays baseball -- not softball, but the game that tv announcers sometimes call "good old-fashioned country hardball." She's the only girl on her Little League team, and she's the only girl on her travel team. And, if you'll permit some parental bragging, she's also good; she is, in fact, an All-Star. She never talks about being the only girl, and the boys she plays with don't seem to notice -- at least once they realize that she can actually play.

And she has watched A League of Their Own, by my conservative estimate, 9 million times.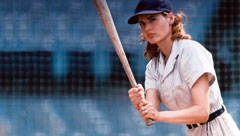 It's funny to her that the women play baseball in skirts, like the one Geena Davis is wearing here. It's funny to her when Tom Hanks, playing drunkard manager Jimmy Dugan, tells an umpire that he looks like "a penis with a little hat on." And it's funny to her when one of the players intentionally throws a ball into the stands to nail a heckler who keeps yelling "Girls can't play baseball."

But it's not funny to her how seriously the women take the game of baseball; instead, it makes perfect sense to her, because that's how she takes it.

And it's not funny to her when Jimmy Dugan says, in the movie's most famous scene, "there's no crying in baseball." She agrees -- and she also knows on some level, even though she's never said so, that while the boys on her team can cry (and most have, at one point or another), she, as the only girl, can't.

But I think Jimmy Dugan is wrong: there is crying in baseball. I know because, after reading about the brave pioneer Doris Sams -- who paved the way for girls like my daughter -- I cried grateful tears for someone I never heard of until she died.




Photo credit: The Knoxville News Sentinel/AP

Photo credit: Columbia Pictures/Courtesy Everett Collection