Earl Lloyd: First Black NBA Player
By Patrick Kiger, February 27, 2015 01:07 PM
On Oct. 31, 1950, Earl Lloyd took the court as a member of the now-long-defunct Washington Capitols basketball team for a game against the Rochester Royals in New York. Lloyd's six points and 10 rebounds were no game-changer, but his performance definitely was in another sense: It was the first time that an African American player appeared in a National Basketball Association game.

>> Famous People We've Lost in 2015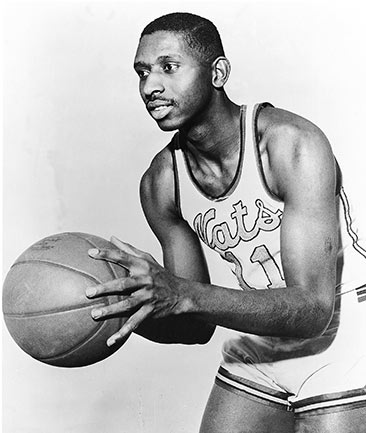 Here are some facts about Lloyd, who passed away on Feb. 26 at age 86 in Tennessee, and his career.

Only 2,184 spectators attended Lloyd's history-making game and saw then-NBA President Maurice Podoloff ceremonially toss up the opening tip.
Two black players who had been drafted ahead of Lloyd — Chuck Cooper of the New York Knicks and Nat "Sweetwater" Clifton of the Boston Celtics — played their first games a day after Lloyd, according to NBA.com.
Lloyd got his nickname — and title of his 2010 autobiography — of "Moonfixer" after upperclassmen at West Virginia State jokingly insisted that he reach up and fix the moon as part of a hazing ritual.
Lloyd was relieved that his first game was in frigid Rochester, he said, because it got so cold there "that no one hates anyone."
Just seven games into his rookie season, Lloyd was drafted into the U.S. Army and missed the rest of the season; by the time he got out of the service in 1952, the Capitols had gone out of business.
The 6-foot, 6-inch forward went on to play six seasons for the Syracuse Nationals (now the Philadelphia 76ers) and two for the Detroit Pistons before retiring with career averages of 8.4 points and 6.4 rebounds a game.
Lloyd coached the Detroit Pistons in the early 1970s.


>> Get discounts on health services with your AARP Member Advantages.

Here's a video interview with Lloyd describing his history-making game.




Photo: The Stevenson Collection/Getty Images

A lso of Interest

See the AARP home page for deals, savings tips, trivia and more.