Five Things You Probably Didn't Know About Ernest Borgnine
We knew him as the sadistic noncom who beat Frank Sinatra to death in From Here to Eternity; as the shy, lonely butcher who finds love in Marty; as the nautical version of Sgt. Bilko in the TV sitcom McHale's Navy; as the police detective trapped on an upturned ocean liner in The Poseidon Adventure; and as the deranged cabbie who dodges bullets as he plies the streets of a dystopian city-turned-prison in Escape from New York.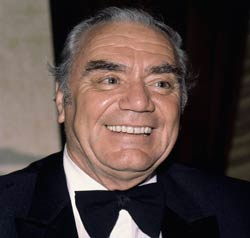 Indeed, Ernest Borgnine, the Academy Award-winning actor who passed away today at age 95 in Los Angeles, was one of the most familiar faces ever to grace both the big and the small screen. The Internet Movie Database lists Borgnine as playing astonishing 203 roles in a career that began in 1951 with the low-budget B movie China Corsair, in which the second-generation Italian-American was improbably cast as a Chinese gambling club owner, and ended with the 2012 indie film The Man Who Shook The Hand of Vincente Fernandez, in which he portrayed an elderly nursing home resident who heroically leads Latino workers in a revolt against the institution's cruel owner. In addition to acting in such classic films as Bad Day at Black Rock, The Dirty Dozen and The Wild Bunch, he appeared in scores of TV shows, from Wagon Train to ER. No part was too small or too undignified; he even did a turn as the voice of Mermaid Man, the geriatric superhero with diminished powers, in the animated children's series SpongeBob SquarePants. (Here's a 2011 AARP interview with Borgnine, after he received a lifetime achievement award from the Screen Actors Guild.)

But as ubiquitous as Ernie Borgnine was, his entertaining 2010 memoir reveals plenty that we never knew about him.



The star of McHale's Navy actually served from 1935 to 1945 in the U.S. Navy, including a stint as First Class Gunner's Mate on the Sylph, a converted civilian yacht donated to the military by the inventor of the Murphy bed.

Borgnine went into acting at the suggestion of his mother, who advised him: "You always like to make a fool of yourself, making people laugh. Why don't you give it a try?" His first big break as an actor came when he replaced Jesse White (more famous as the original Maytag repairman in TV commercials) as Wilson the hospital attendant in the play Harvey on Broadway.

When he showed up at Columbia to read for the role of Fatso Judson in From Here to Eternity, director Fred Zinnemann told him to get a haircut first. Borgnine obliged, but to Zinnemann, it wasn't short enough. He sent Borgnine back to the barber eight more times. Borgnine, at that point still a struggling young actor, had to pay for the haircuts himself.

When Borgnine was filming Marty, he decided to get a better feel for his character by walking around the Bronx neighborhood where the movie was being made. He was promptly confronted by a group of Italian-American locals, who recognized him as the guy who killed their idol Frank Sinatra in From Here to Eternity. But they warmed up to Borgnine when he explained to them that he was friends with Sinatra and that he was also Italian-American, and after that they brought him wine and homemade pizza to the set every day.

While Borgnine was most acclaimed for his performance in Marty, his own personal favorite among his movies was The Poseidon Adventure, in part because he admired director Irwin Allen's cleverness in making a spectacular action thriller on the $5 million budget that the studio grudgingly gave him. The film ultimately grossed more than $200 million worldwide.
Photo credit: Nick Ut/AP