George McGovern: 5 Things You May Not Know About Him
By Patrick Kiger, October 21, 2012 07:23 AM
Sen. George S. McGovern is remembered mostly as an opponent of the Vietnam War and as the ill-fated Democratic presidential nominee in 1972. After a campaign marred by mishaps - from an out-of-control national party convention schedule to revelations that his vice presidential pick, Thomas Eagleton, had been treated for clinical depression - McGovern suffered one of the worst landslide losses in history to incumbent Richard Nixon.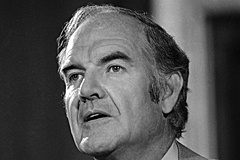 But that one spectacular failure belies a lifetime of achievements. McGovern, who passed away Oct. 21 at age 90 at a hospice near his home in South Dakota, was in many ways a hero who exemplified American ideals. Here are five things that you might not know about him.



He worked his way out of abject poverty. McGovern grew up as the child of an impoverished Dust Bowl Methodist minister who often accepted cabbages and potatoes as payment for preaching. Never forgetting what it was like to be poor, McGovern fought for decades to alleviate hunger. He served in the JFK administration as director of the Food for Peace program, which distributed U.S. farm surpluses to starving people overseas, and helped create the United Nations' World Food Programme, which today is the biggest antihunger effort. In 1969, McGovern sponsored legislation to make food stamps more widely available to low-income Americans.

He was a World War II combat hero. After Pearl Harbor, McGovern enlisted in the U.S. Army as a private and quickly rose through the ranks. He became the pilot of a B-24 Liberator and flew 35 combat missions over Africa and Italy. Hit by enemy fire on a 1944 mission, McGovern guided his bomber to a safe landing in Yugoslavia, a feat that earned him a Distinguished Flying Cross. Years later, historian Stephen Ambrose made him a central character in his book on World War II aviators, The Wild Blue.

He gave a great convention acceptance speech. Unfortunately, the Democratic convention had descended into such chaos that not many TV viewers were awake to hear him. But as Esquire political blogger Charles Pierce notes, McGovern's address may have been one of the most eloquent since William Jennings Bryan's "Cross of Gold" speech. A snippet: "From secrecy and deception in high places; come home, America. From military spending so wasteful that it weakens our nation; come home, America. From the entrenchment of special privileges in tax favoritism; from the waste of idle lands to the joy of useful labor; from the prejudice based on race and sex; from the loneliness of the aging poor and the despair of the neglected sick - come home, America. Come home to the affirmation that we have a dream."

After losing a daughter to alcoholism, he tried to help other families deal with the disease. McGovern's daughter Teresa died in 1994 at age 45, after battling for decades with her addiction. But instead of retreating into his grief, McGovern wrote a 1996 memoir, Terry: My Daughter's Life-and-Death Struggle with Alcoholism, in which he bravely probed the painful mystery of how his daughter's life went astray, and urged other parents not to give up on their addicted children.

His sense of humor helped him to cope with defeat. Emotionally devastated, according to reports, by his loss to Nixon - and by how Democrats abandoned him afterward - McGovern and his wife, Eleanor, considered moving to England. But he rebounded, in part because he found the courage to laugh at his predicament. "For many years, I wanted to run for the presidency in the worst way," he explained in a self-deprecating account of his campaign. "And last year, I sure did."
Photo: Bob Daugherty/AP Photo