Grampy's Last Pitch: Be Kind to People
By Austin O'Connor, November 14, 2012 04:56 PM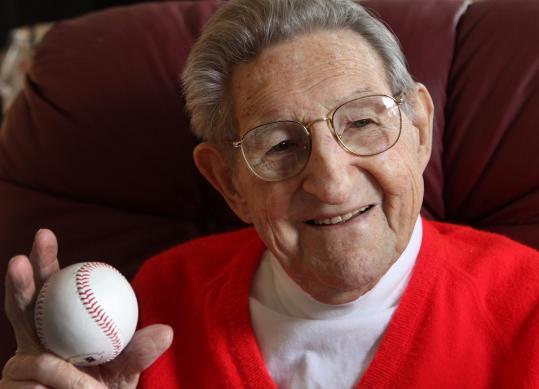 My grandfather Bill Hogan Jr. lived for 100 years and - to my knowledge at least -he was kind to everyone he ever met.

Grampy Hogan died on Monday night, but just 24 hours before that, as I visited with him one last time, he was still at it with the kindness. Now it came in halting efforts, as he slowly asked about my wife Maureen and our three young kids at home. "You have a busy household these days," he said.

He wondered what I'd been writing about lately. He told me a story I'd never heard before, about the night in 1940 when he proposed to my grandmother: He popped the question right before a Boston Bruins game at a little seafood restaurant near the old Boston Garden where they served "two dollah lobstahs." Speaking of food, he wondered more than once, had I eaten dinner yet? He was thinking of others up to his last breath - his heart was finally beyond repair, but it was still huge.

His nurses came in and out, and a few of the workers at Brookhaven, the wonderful facility where he lived for the last 15 years of his life, came up with excuses to stop in and check on him. Lying in bed, not able to move much, the meds taking an increasing toll - he was far from the incredibly active centenarian they had come to know. They all left with watery eyes. He had that effect on people.

He was a lawyer, politician, father, grandfather, great-grandfather, dancer, ballplayer, golfer, amateur silversmith and raconteur. He was smart and funny and thoughtful. He made news last April, as he celebrated his 100th birthday by throwing out the ceremonial first pitch at Fenway Park, the Boston baseball shrine that itself turned 100 this year. His pitch got a lot of attention, and it came in front of his whole family - 4 kids, 13 grandkids, 18 great-grandkids (two more are now on the way) - and a sold-out crowd on a brilliantly sunny afternoon in the sporting cathedral of the place he called home for a century. It was a great day - but then, he said every day was a great day. That was one of his secrets, I think.

He was born on April 14, 1912, the day the RM S Titanic struck an iceberg in the Atlantic Ocean. Sometimes it seemed like his spirit was unsinkable. Grampy's gone now, but his kindness will float on forever.