Helen Thomas: Grande Dame of the White House Press Corps
By Patrick Kiger, July 20, 2013 12:04 PM
Some journalists, as the saying goes, speak truth to power. Helen Thomas made power squirm.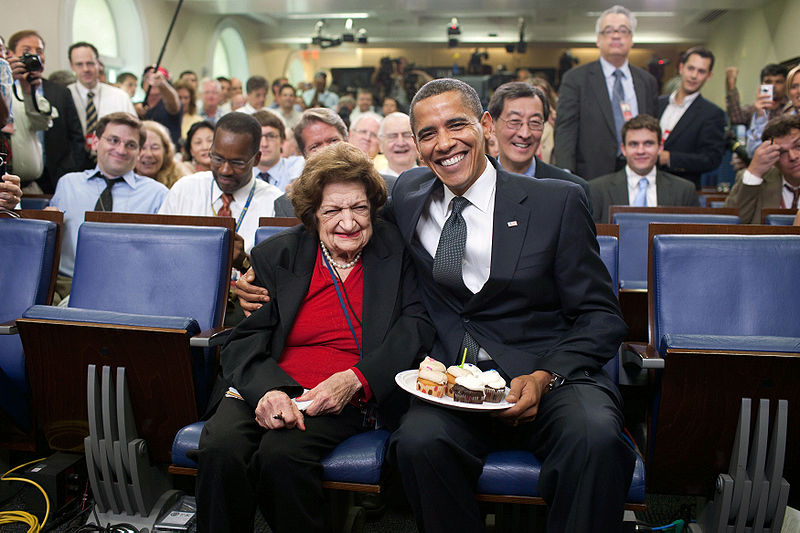 White House correspondent Thomas, who died on July 20 at age 92 in Washington, D.C., covered every president from John F. Kennedy to Barack Obama over more than five decades. She was inquisitive - and an inquisitor. "I think that presidents deserve to be questioned, maybe irreverently, most of the time, [to] bring 'em down a size," she explained in an HBO documentary about her life. And that she did, with a startling ferocity and tenaciousness.

She once famously pinned down Ronald Reagan, who tried to avoid answering her question by pointing to his aides and saying, "They won't let me." Thomas' reply: "But you're the president." She once confronted George W. Bush, demanding to know, "Why did you really want to go to war?" She wasn't any easier on Obama.

Thomas' New York Times obituary noted that "her blunt questions and sharp tone made her a familiar personality not only in the sometimes parochial universe inside the Beltway but also to nationwide television audiences."

You can see her at work in this trailer for the HBO documentary:


Here are 10 interesting facts about Thomas:

She grew up in Michigan, the daughter of Lebanese immigrants, and got her start in Washington as a copy girl for the long-defunct Washington Daily News.
She joined United Press International in 1943, but her first presidential assignment didn't come until 1960, when she was sent to Palm Beach, Fla., to cover the vacation of President-elect John F. Kennedy.
Lyndon Johnson actually learned of his daughter Luci's engagement when Thomas reported it.
During Watergate, Thomas frequently was the recipient of late-night phone calls from Martha Mitchell, wife of then-Attorney General John Mitchell, who vented her frustrations with how she thought White House officials were betraying her husband.
Thomas was the first woman to become a member of both the White House Correspondents' Association and the Gridiron Club, a prestigious Washington journalism organization.
Because of her seniority, Thomas for decades routinely closed White House press conferences with the stock "Thank you, Mr. President."
She became such an iconic figure in Washington journalism that she once appeared in an episode of The Simpsons. She played herself in the movies Dave (1993) and The American President (1995).
In 2010, Thomas, by then a columnist for Hearst newspapers, got into trouble for making controversial comments about Israel in an interview. After her statements were condemned by the Obama administration and many others, she lost her columnist job and apologized for her remarks, saying she believed that peace in the Middle East would only come "when all parties recognize the need for mutual respect and tolerance." A year later, the indefatigable Thomas resurfaced as a columnist for a local newspaper, the Falls Church News-Press.
She wrote five books, one of which - in trademark Thomas style - was a 2006 polemic titled Watchdogs of Democracy? The Waning Washington Press Corps and How It Has Failed the Public.


Here's a college commencement appearance that Thomas made in 2007, in which she responded to an introduction by noting that "It's always tough to hear your obituary."




Photo: White House (Pete Souza) via Wikipedia