Howard Camping: Fortunately, His Calculations Were a Little Off
By Patrick Kiger, December 18, 2013 08:51 AM
If Howard Egbert Camping had been right, you wouldn't be reading this now.

The radio evangelist wasn't the first to predict a specific date the world would end, based on a mathematical formula divined from the Bible. (Perhaps the best known: The Rev. William Miller famously got the date of the last day wrong twice, in both 1843 and 1844.) But Camping, who died on Dec. 15 at age 92 in Alameda, Calif., might well have held the record for predicting the end incorrectly the most times - at least 12, dating back to 1978.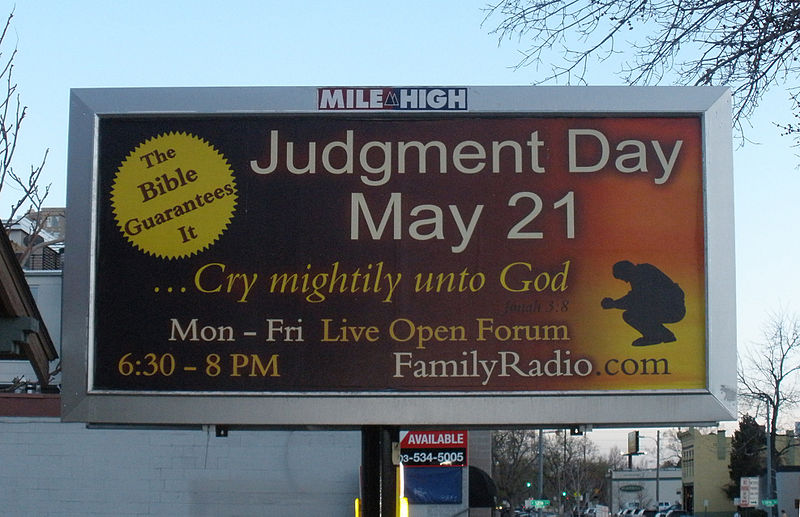 No one could question Camping's sincere belief that the end was near. He was unique among apocalyptic seers in that he spent a vast sum - $100 million, according to an article in the Christian Post - to make sure the world knew that time was up on May 21, 2011. With that money, Camping bought billboards, printed millions of pamphlets and dispatched followers on a cross-country tour to warn others to prepare. "When the Judgment Day begins, there will be no more salvation, no more possibility of becoming right with God," Camping warned at the time, according to a 2011 New York Times article.


>> Sign up for the AARP Health Newsletter

But the evangelist was nothing if not humble. When the supposedly fateful day passed and the sun rose uneventfully on May 22, he announced that his calculations had been wrong. The world actually would end on Oct. 21, he explained.

That, blessedly, didn't happen either, and Camping made no more public pronouncements. In 2012, he apologized to his followers, saying that "we must also openly acknowledge that we have no new evidence pointing to another date for the end of the world."

Camping's errant prophecies overshadowed a remarkable 50-year career in which he built a broadcasting empire that, at its peak, controlled at least 140 radio stations on four continents, and a pair of TV stations as well, according to his New York Times obituary. But it was being wrong - and conspicuously so - that made his name known nationwide.

Here are a dozen facts about the mistaken visionary and his most famous moment:

Camping, who held a degree in civil engineering from the University of California, Berkeley, founded a successful construction company that made him a millionaire by the time he was 35.
In the 1950s, he gradually put aside his business career and turned to Bible study, spending eight hours a day studying Scripture.
Camping founded a broadcasting company, Family Stations, Inc., in 1958, and began hosting a radio show the following year.
Camping reportedly was the author of 30 books and pamphlets.
Camping's 2011 predictions were based on a complex formula, in which he figured the world would end 7,000 years after the Biblical flood survived by Noah, which he believed had occurred in 4990 B.C.
Camping reportedly rented space to announce the May 21 Judgment Day on more than 5,000 billboards across the nation, emblazoned with the promise "The Bible Guarantees It."
Camping's prediction prompted late-night comedian David Letterman to concoct a Top 10 list of things that he had to do before the end of the world ("No. 4: Tell Oprah that I love her.").
In the run-up to the Oct. 21 doomsday prediction, Camping argued that small earthquakes in California, Hawaii and Texas were evidence that the world was about to end.
In 2012, Camping tried to find a positive in his wrong predictions, claiming that his "incorrect and sinful statement allowed God to get the attention of a great many people who otherwise would not have paid attention."


Photo: O'Dea via Wikipedia

>> Get travel discounts with your AARP Member Advantages.



Also of Interest



See the AARP home page for deals, savings tips, trivia and more