In Honor of Malachi Throne: Hollywood Stars with Memorable Names
By Patrick Kiger, March 20, 2013 09:41 AM
Actor Malachi Throne, who died on March 13 at age 84 in Los Angeles, had a remarkable career that spanned seven decades and included roles in scores of classic TV shows. Star Trek junkies remember him as the voice of the Talosian leader The Keeper in the series' 1966 pilot episode, but he also portrayed False-Face in Batman and Noah Bain, the government boss assigned to rein in Robert Wagner's thief-turned-spy Alexander Mundy, in the hit late-1960s action series It Takes A Thief. But the native New Yorker had another, even more intriguing distinction: Not only did he have one of the most exotic monikers in show business, but it actually was the name on his birth certificate as well.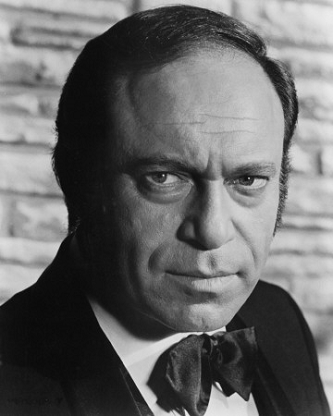 In fact, the distinctiveness of Throne's name may have helped make his career. As Throne told an interviewer back in 1968, when he first arrived in Hollywood his agent made the mistake of abbreviating his name to Mal Throne, thinking it eventually would fit better on movie marquees. But after an assistant director irked Throne by addressing him as "Mal baby," the actor insisted that he be listed by his full, Old Testament name. "I don't know whether it was numerology or integrity," he explained, "but everything has been going great since I dumped Mal Throne."

In honor of Throne, we offer a list of the 10 Hollywood stars with the most memorable names. (You probably can think of even better ones, so post your suggestions in the comments section below.)



Rip Torn. The 82-year-old actor, who was born Elmore Rual Torn Jr., came by his first name honestly - it was a nickname bestowed on previous generations of Torns, including his own father.

Red Buttons. A Borscht Belt comic who became a TV star in the 1950s, Buttons - who died at age 87 in 2006 - was born Aaron Chwatt. He got what became his stage name as a youth, because he had red hair and wore a bellhop uniform in one of his early jobs.

Moon Bloodgood. The actress who starred in the 2009 sci-fi film Terminator Salvation was born Korinna Moon Bloodgood in 1975.

C.C.H. Pounder. The 60-year-0ld actress, who played detective Claudette Wyms in the mid-2000s series The Shield, merely abbreviated her full name, Carol Christine Hilaria Pounder.

Skelton Knaggs. The British actor - who died in 1955 - went by his given name when he appeared in Hollywood films such as 1944's The Invisible Man's Revenge.

Efrem Zimbalist Jr. The 94-year-old actor, who played in classic TV shows such as 77 Sunset Strip and The FBI, inherited his name from father, a concert violinist and composer.

Orson Welles. The famed director and actor, who died in 1985 at age 70, actually was born George Orson Welles, a name chosen by his mother. But according to biographer Barbara Learning, his father insisted on him dropping the "George," which he thought sounded too working-class, during Welles' childhood.

Wings Hauser. The 65-year-old actor and director started out life as Gerald Dwight Hauser, but changed his first name because he played wingback on the football team at Oregon State, according to a 1980 newspaper profile.

Tuesday Weld. The 69-year-old actress, who appeared in such films as Return to Peyton Place, Looking for Mr. Goodbar and Play It As It Lays, was born Susan Ker Weld. She legally changed it to Tuesday in 1959.

Ving Rhames. The 53-year-old actor, who has appeared in films such as Pulp Fiction, uses a shortened version of his first name, Irving.