Jerry Vale: A Voice Like Velvet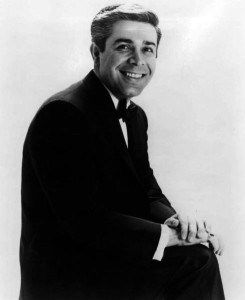 Even in his heyday in the 1950s and 1960s, Jerry Vale was never hip or trendy. Instead of jazz or rock, he stuck to ballads and love songs - the sort that would prompt a guy's date to rest her head against his shoulder, whether they were out for a drive in the Rambler or having a slow dance in one of the smoky nightclubs where Vale got his start.

But it worked, because Vale, who died on May 18 at age 83 in Palm Desert, Calif., had a pitch-perfect voice that was as smooth as top-shelf Scotch. He was so admired by Frank Sinatra that the Chairman of the Board personally hired him to sing at the Sands.

>> Sign up for the AARP Health Newsletter 

Here are some facts about Vale and his career:



He was born Genaro Louis Vitaliano.
Vale began singing as a shoeshine boy, to get better tips. He went on to win a talent contest at the electronics factory where his father worked and lied about his age so that he could get jobs singing in nightclubs when he was 15.
He was discovered by singer Guy Mitchell, who persuaded him to change his name to Jerry Vale and hooked him up with Columbia Records executive Mitch Miller, who signed him to a contract in 1951.
Vale had his first hit in 1953 with "You Can Never Give Me Back My Heart," on which he sang with Percy Faith and His Orchestra.
Vale recorded more than 50 albums. At his apex in the mid-1960s, he had hits with songs such as" "Have You Looked Into Your Heart?," "Two Purple Shadows," "I Live Each Day," "Innamorata" and "You Don't Know Me." But his signature number was "Al Di La."
In the mid-1960s, Vale passed up a gig with Ed Sullivan so that he could travel to the West Coast to tape a duet with Dean Martin, another of his idols. The show's producer irked him by cutting the song from the show at the last minute, and his personal appeal to Martin was to no avail. When Vale was later offered another guest spot on Martin's show, he not only turned them down but insisted that they destroy the tape.


>> Get discounts on health services with your AARP Member Advantages.



Vale, who grew up rooting for the Yankees, was such a fan that in 1963 he hired a 40-piece orchestra and eight backup singers and recorded a rendition of the national anthem, which he presented to the team as a gift. Vale's version was so good that it actually became the first record ever inducted into the baseball Hall of Fame.
He made cameo appearances as himself in director Martin Scorsese's films Goodfellas and Casino, as well as in the TV series The Sopranos.


Photo: Vale in 1965 (Wikipedia)



Also of Interest



See the AARP home page for deals, savings tips, trivia and more