Jim Lange: Host of 'The Dating Game'
By Patrick Kiger, February 27, 2014 04:33 PM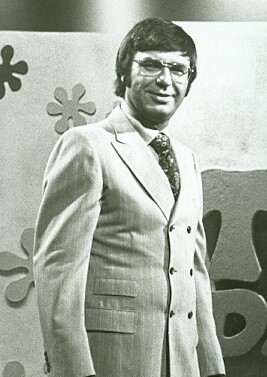 A newspaper feature writer gushed in 1969 that Jim Lange, the host of The Dating Game , personified "the swinging, nattily dressed bachelor." The description might seem amusingly quaint today, but then again, so would the show itself. During its original run from 1965 to 1973, The Dating Game - in which a "bachelorette" picked one of three prospective bachelors hidden behind a screen, or vice-versa, by asking provocative questions - was an awkward artifact of society's evolving attitudes about sexual freedom and openness.


Lange, who died on Feb. 25 at age 81 in Mill Valley, Calif., himself actually was a bit of a catch, as they used to say, as eventually was evidenced by his 1978 marriage to onetime Miss America Nancy Fleming Lange. But on the show, the melodious-voiced former announcer for Tennessee Ernie Ford functioned as a G-rated version of Hugh Hefner, a friendly middle-aged hunk who helped reassure viewers and contestants alike that despite the implicit naughtiness, this was all good clean fun. Thanks to Lange's deftness, the concept worked so well that The Dating Game also served as a launching pad for numerous celebrities who got early airtime as contestants on the show. Here are a few examples:

Arnold Schwarzenegger. The future star of such action films as the Terminator series amused the audience by asking, in a thick Austrian accent, if bachelorettes could explain to him what the English-language idiom "hanky panky" meant.

Farrah Fawcett. It's startling to see the departed star of Charlie's Angels, whose swimsuit poster once graced countless adolescent boys' bedroom walls, appearing on the show with straight brown hair instead of her trademark feathered blonde mane.

John Ritter. The late star of Three's Company and 8 Simple Rules for Dating My Teenage Daughter was a bachelor contestant.

Steve Martin. Back when he had brown hair and wore a green suit instead of a white one, the future star of The Man with Two Brains, Father of the Bride and Dirty Rotten Scoundrels was so charming that bachelorettes picked him twice.

The Carpenters. The pop duo already had a hit with "(They Long to Be) Close to You" when they appeared on the show to perform, and also participate separately as contestants.




Photo: Lange in 1971