Judy Carne: 'Sock It to Me' Was Her 'Laugh-In' Line
By Patrick Kiger, September 8, 2015 04:36 PM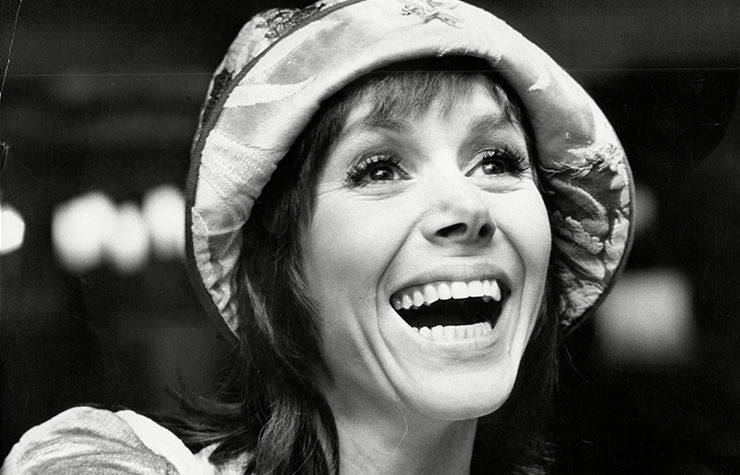 Judy Carne sticks in our memories as the "Sock it to me!" character on Rowan & Martin's Laugh-In (1968-73). When she uttered the magic words, she'd abruptly be doused with water, fall through a trap door or suffer some other inglorious fate.

Carne, who died on Sept. 3 at age 76 in Northhampton, England, had a life that mixed comedy with tragedy and resilience. Here are some facts about her and her famous line:

Two years before Laugh-In premiered, Mitch Ryder and the Detroit Wheels recorded "Sock It to Me Baby," with the phrase obviously carrying a sexual connotation.
Rowan and Martin's more likely inspiration was Aretha Franklin's 1967 hit "Respect," which repeats the phrase in rapid succession.
In a 1968 Laugh-In cameo, Richard Nixon uttered the phrase as a favor to one of the show's writers, Paul W. Keyes, who had written jokes for Nixon speeches.
Carne's scores of TV roles in the 1960s and 1970s included a nun on Bonanza and a mod photographer who helps Illya Kuryakin (David McCallum) catch Nazi war criminals on The Man from U.N.C.L.E.
She was briefly married to Burt Reynolds.
She left Laugh-In in 1970 after she told TV Guide that "frankly, it has become a big bloody bore."
In the early 1970s, she struggled with heroin addiction, and she survived a 1978 car accident that left her with a broken neck.
In her final screen appearance, in the 1993 indie film What About Me, she portrayed a homeless woman in New York in a cast filled with punk rock musicians Johnny Thunders, Dee Dee Ramone and Richard Hell.
Here's a Laugh-In segment in which she's subjected to multiple indignities.




Photo: Daily Mail/Rex/Alamy