Julian Bond: Civil Rights Activist
By Patrick Kiger, August 17, 2015 11:51 AM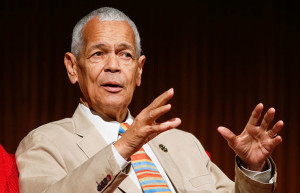 In the 1960s, student civil rights activist-turned-Georgia legislator Julian Bond, who passed away Aug. 15 at age 75 in Fort Walton Beach, Fla., cut such a charismatic figure with his slim, handsome looks and dazzling gift for oratory that some envisioned him becoming the first African-American U.S. President.

Instead, that political pinnacle eventually was achieved by Barack Obama, who shared many of Bond's attributes. But Bond, who went on to become chairman of the NAACP from 1998 to 2010, helped pave the way with his eloquent championing of integration and racial equality.

Fa mous People We've Lost in 2015 »

Here are some facts that you might not know about Bond and his legacy.

His great-grandmother was a freed slave.
As an undergraduate at Morehouse College, he was such as gifted poet that Langston Hughes included his work in the 1964 anthology New Negro Poetry.
After helping to organize demonstrations and sit-ins against segregation in Atlanta in 1960, he became communications director of the Student Nonviolent Coordinating Committee, which organized Freedom Rides to integrate bus travel in the South.
The Georgia legislature refused to seat him in 1965, citing his opposition to the Vietnam War, and it took him two years and a U.S. Supreme Court ruling to gain admittance.
In 1968, after leading a challenge to the Georgia delegation's segregated makeup at the Democratic National Convention, Bond's name was put up for nomination as vice president, even though at age 28 he was too young to be eligible.
In 1977, he became the first black political figure to host an episode of Saturday Night Live, and more recently appeared on the Colbert Report.
He narrated Eyes on the Prize, the 14-part PBS series about the civil rights movement that aired from 1987 to 1990.


Get discounts on prescriptions, eye care and more — AARP Member Advantages »

Here is a news clip from the 1968 Democratic National Convention, in which Julian Bond was nominated for vice president and then interviewed by CBS newsman Dan Rather.


Photo: Jack Plunkett/AP

Also of Interest

See the AARP home page for deals, savings tips, trivia and more.