Leonard Nimoy: The Pointy-Eared Icon of 'Star Trek'
By Patrick Kiger , February 27, 2015 02:45 PM
How powerful an impression has Leonard Nimoy's Star Trek portrayal of Spock left on American culture? Hold up your right hand in the split-fingered Vulcan salute that Nimoy invented for his relentlessly logical, dispassionate half-alien starship officer, and odds are that just about everybody in the room will get the reference.
>> Famous People We've Lost in 2015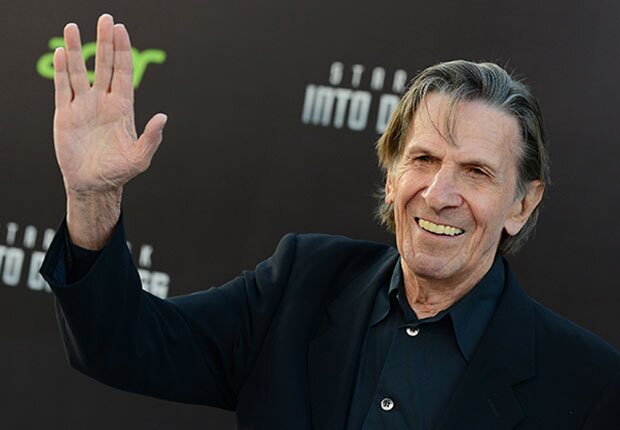 Here are some facts about Nimoy, who passed away on Feb. 27 at age 83 in Los Angeles, and his relationship with his ubiquitous fictional alter ego.

Before Spock, Nimoy had never played a role for more than two weeks and initially had qualms, because "playing some monster or freak can be the kiss of death for an actor, and this emotionless guy with pointy ears from another planet didn't appeal to me."
After NBC rejected the initial pilot for Star Trek in 1965, Nimoy was the only cast member brought back for the second pilot, according to Variety.
Nimoy got the feel for the character's personality by repeating the word "fascinating" until he got a properly lofty tone.
Spock resonated powerfully in the turbulent 1960s because he offered a "practical, reasoning voice in a period of dissension and chaos," Nimoy once said.
During the original run of Star Trek, Nimoy turned down $50,000 in fees offered for personal appearances in costume: "They can have me," he said, "but not the ears."
In 1967, he released a record album, Leonard Nimoy Presents Mr. Spock's Music from Outer Space, in which he recited lyrics in character.
Spock actually became such a sex symbol that the New York Times once ran a profile of Nimoy entitled, "Girls All Want to Touch the Ears."
Famous people ranging from LSD guru Timothy Leary to President Barack Obama greeted Nimoy with the Vulcan salute, which he based on an ancient kohanic blessing.
Nimoy's performance as Spock earned three Emmy nominations, but he never won.
After publishing an autobiography, I Am Not Spock, in 1977, he reconsidered and published a second memoir, I Am Spock, in 1995.
Portraying Spock influenced Nimoy so profoundly that he once explained: "To this day, I sense Vulcan speech patterns, Vulcan social attitudes and even Vulcan patterns of logic and emotional suppression in my behavior."
>> Get discounts on health services with your AARP Member Advantages.
In this interview with the Archive of American Television, Nimoy discusses why Vulcans became unemotional.
Photo: Jordan Strauss/Invision/AP
A lso of Interest

See the AARP home page for deals, savings tips, trivia and more.