Louis Zamperini: Olympic Runner, POW Was Twice a Hero
In 1936, at age 19, Louis Zamperini was one of the best middle-distance runners in the world. He was good enough to be on the U.S. team in the Berlin Olympics, where he finished eighth in the 5,000 meters and stood close enough to Adolf Hitler's box at the stadium to get a good look at the Nazi dictator. "I was pretty naí¯ve about world politics, and I thought he looked funny, like something out of a Laurel and Hardy film," Zamperini recalled in a 2003 interview with the New York Times.

>> Photos: Famous People We've Lost in 2014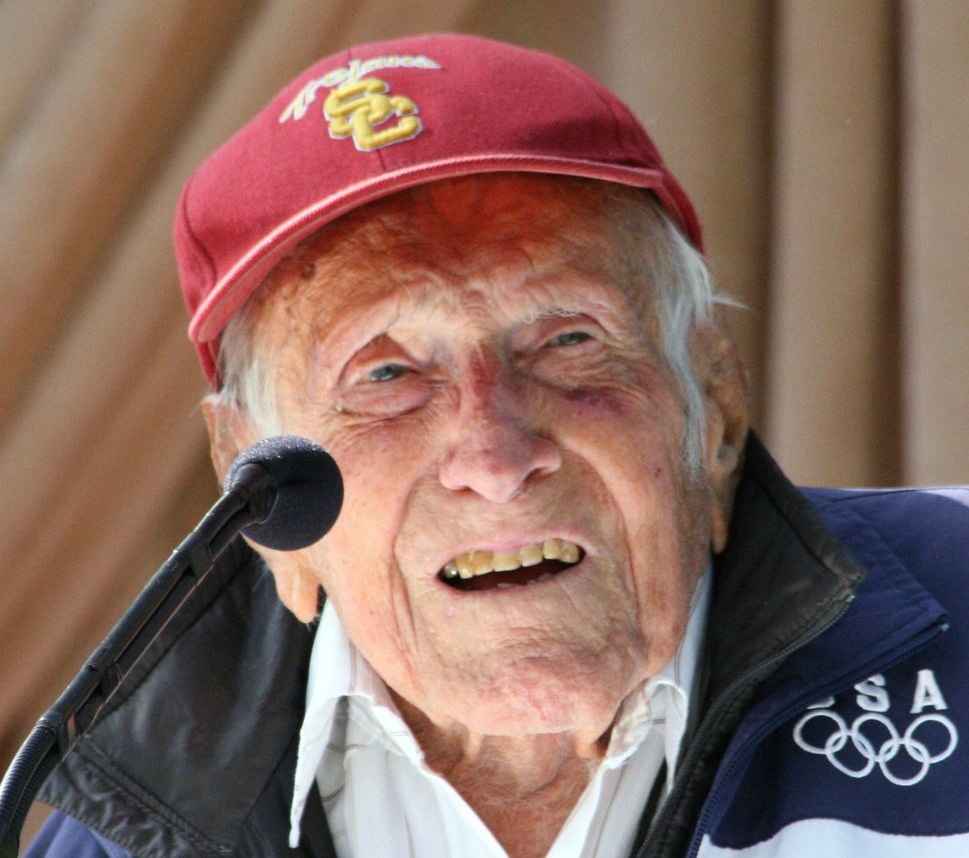 World War II soon put an end to Zamperini's dream of winning a gold medal in the 1940 Olympics and instead forced him to become a different sort of hero. In May 1943, a B-24 bomber on which Zamperini was serving as bombardier crashed into the Pacific Ocean. After surviving 47 days in a life raft, Zamperini was picked up by a Japanese patrol ship and imprisoned, where he suffered horrific torture and mistreatment.

Zamperini, who died on July 2 at age 97, not only managed to survive his wartime ordeal but also became an inspiration for generations that followed. He was the subject of author Laura Hillenbrand's 2010 bestseller, Unbroken: A World War II Story of Survival, Resilience, and Redemption, which was adapted into a film directed by Angelina Jolie that will be released this December.

Here are some facts about Zamperini:



As a teenager, Zamperini ran a 4:21.12 mile at the Los Angeles Coliseum, setting a national high school record that stood for 20 years.
At the Berlin Olympics, Zamperini pulled a youthful prank by climbing a pole to steal a Nazi swastika flag, according to a 1943 Associated Presss article. He was arrested by German guards but somehow ended up keeping the flag as a souvenir. After war broke out, he said that he wanted to return to Berlin - as a bombardier.
In a 1945 New York Times article, Zamperini recalled that his prison-camp meals consisted of four tablespoons of soup and a gob of rice halfway between the size of a golf ball and a tennis ball. Guards threw the rice at him and the other prisoners, so that they had to scramble on the filthy floor to scoop up the grains.
After the war, Zamperini struggled with alcoholism until he heard an inspirational sermon by the Rev. Billy Graham that helped him to straighten out his life. He went on to work in commercial real estate and remained physically active into his 90s, taking up skiing, mountain climbing and even skateboarding, according to his Los Angeles Times obituary.


>> Get travel discounts with your AARP Member Advantages.



Fifty-three years after his liberation, Zamperini tried to meet with his chief wartime tormentor, a Japanese sergeant named Matsuhiro Watanabe, to forgive him for his crimes. Watanabe's family nixed the meeting, but people in one of the towns where Zamperini was imprisoned sought to make amends by honoring the ex-POW with a banquet, according to a 1998 Los Angeles Times article. Zamperini ran a leg of the torch relay for the Winter Olympics in Nagano that year.
Zamperini had been selected to serve as the grand marshal of the 2015 Rose Parade in Pasadena.
In a recent interview, Zamperini said that while he missed his college and wartime friends who had passed away, he relished his new friendship with the glamorous Jolie. "She hugs me and kisses me, so I can't complain," he joked.


Here's a 2011 documentary on Zamperini in which he talks about his life with a journalism class at his alma mater, the University of Southern California.




Photo: Zamperini in 2014 by Floatjon via Wikipedia



Also of Interest



See the AARP home page for deals, savings tips, trivia and more