Mac McGarry: The Quintessential Quizmaster
By Patrick Kiger , December 17, 2013 12:21 PM
Washington, D.C., has more than its share of inquisitors. But perhaps the most renowned questioner of all was Maurice James "Mac" McGarry, the founding host of It's Academic who died on Dec. 12 at age 87 in Potomac, Md. According to the Guinness Book of World Records, the televised test of wits for teenagers is the longest-running quiz show in the TV history.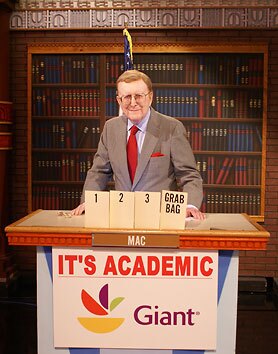 When It's Academic premiered in October 1961, McGarry and the show's creator, Washington lawyer-turned-TV producer Sophie Altman, had a noble mission: making the smartest, most studious kids seem as cool and admirable as their high school's football heroes or prom queens. They succeeded. To jazz up the show, Altman dreamed up pep-rally flourishes, such as inviting schools' cheerleaders and marching bands onto the set to cheer on their classmates.
But it was the deep-voiced, amiable McGarry, himself the product of a rigorous Jesuit-supervised education in New York, who gave the show its crisp air of braininess, once even calling the Russian Embassy for help in mastering the pronunciation of a word.
>> Sign up for the AARP Health Newsletter
As a result, the teen-quiz show concept became so popular that TV stations in at least a half-dozen other cities across the country created their own versions. McGarry hosted the show for just short of a half-century, finally retiring from the podium in 2011.
Here are some other intriguing facts about McGarry, who died on Dec. 12 at age 87 in Potomac, Md.

McGarry got his start in radio in 1950 when famous baseball announcer Vin Scully - at the time, the voice of the Brooklyn Dodgers - urged him to apply for a summer radio-announcing job at Washington's WRC.
Prior to hosting It's Academic, he played the part of comedic foil for weatherman Willard Scott, who went on to fame on NBC's Today show.
McGarry liked mixing up the questions, drawing material not just from history and science but also popular culture. The Washington Post described his topics as including "Shakespeare, Michelangelo, Chubby Checker, and the chemical makeup of paint."
As a 2001 Washington City Paper profile of McGarry detailed, the questions and answers, written on index cards, were delivered to McGarry in a locked leather briefcase before the broadcast.
Over the years, numerous students who went on to become famous in various fields appeared on the show, including former first lady Hillary Rodham Clinton, Sen. Charles E. Schumer (D-N.Y.), presidential adviser-turned-TV journalist George Stephanopoulos and Pulitzer Prize-winning novelist Michael Chabon. Actress Sandra Bullock, then a high school cheerleader, waved pom-poms in one broadcast.
Though McGarry generally kept a serious demeanor, he once had difficulty not cracking up when he asked a contestant who had defeated Napoleon at Waterloo, and the nervous student flubbed the answer, replying "Duke Ellington." According to his obituary in the Post, McGarry recalled, "I tried not to laugh, but I had to hang my head on the rostrum."
>> Get travel discounts with your AARP Member Advantages.
Here is McGarry's final episode of It's Academic, from 2011.
Photo: It's Academic

Also of Interest

See the AARP home page for deals, savings tips, trivia and more