Martin Richards: 5 Facts About 'Chicago,' His Biggest Hit
By Patrick Kiger, November 28, 2012 07:13 PM
As a Broadway producer, Martin Richards had a string of successes, including Sweeney Todd, which won eight Tony awards in 1979, and Grand Hotel, which won five a decade later. But the project that Richards, who died on Nov. 26 at age 80 in New York City, will be best remembered for is bringing the stage musical Chicago to the big screen, where it grossed $307 million worldwide and won the 2003 Oscar for best picture, in addition to a best supporting actress statuette for Catherine Zeta-Jones.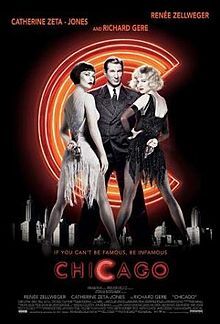 The magnitude of Chicago's box-office and critical triumph was a measure of Richards' tenacity. After the play's initial stage production in 1975, it took 27 years for a movie version to make it into theaters. But as actress Chita Rivera told the New York Times, Richards "never gave up on what he truly believed in. He was a bulldog."

Here are five facts about the producer and his masterwork.



Chicago actually was adapted from a 1926 play by Chicago crime reporter Maurine Dallas Watkins. She wrote one other Broadway play, Revelry, which was forced to close after civic groups condemned as unpatriotic its parody of the late President Warren G. Harding.

When Richards produced Chicago on Broadway in 1975, the cast included stellar dancer Chita Rivera and Jerry Orbach, who would go on to greater fame as detective Lennie Briscoe on the long-running TV crime drama Law & Order. The production ran for 936 performances before closing in 1977.

Richards wanted to make a movie version of Chicago from the get-go, and laboriously bought the movie rights from each of the show's numerous investors and coproducers, according to a 2003 New York Times article. But he was unable to convince Bob Fosse, the show's original director and choreographer, to make the movie with him. After Fosse died in 1987, Richards decided to give up the project - only to have his hopes revived two years later, when he got a call from Hollywood mogul Harvey Weinstein.

When Richards finally got his studio deal in 1989, Madonna was present at the contract signing but ended up not appearing in the movie. Another then-star who was signed for the cast, Goldie Hawn, was later dropped for being too old, according to the Times article. Weinstein reportedly campaigned for Britney Spears to get a role and commissioned Janet Jackson to write a song for the film.

After the movie's success, Richards had to go onstage to accept a Golden Globe award. He was so flustered by the coveted international accolade, by his own admission, that "I ran up there with my menu in my hand. I left the speech back on the table. I just went for the microphone like I was going for the jugular.''


From Las Vegas Review, here's a video tribute to Richards and his productions.