'Pepper' Paire Davis: In a League of Her Own
By Patrick Kiger , February 05, 2013 11:10 AM
If you're a fan of sports movies, you've probably seen A League of Their Own, director Penny Marshall's 1992 homage to the All-American Girls Professional Baseball League. The latter was a circuit of women's teams that Major League Baseball put together in 1943 to keep fans coming to ballparks at a time when male baseball players were being drafted into the nation's armed forces.The film focuses largely on the travails of a fictional player, Dottie Hinson (portrayed by Geena Davis), a young woman whose husband has gone off to fight in the war, and who also happens to be a hard-hitting catcher.
While the movie was a big hit at the box office, most of us probably didn't realize that Davis's character actually was based loosely upon a real-life ballplayer: Lavonne "Pepper" Paire Davis, who had an 11-year career as a shortstop and catcher for four different professional women's teams from 1944 to 1953.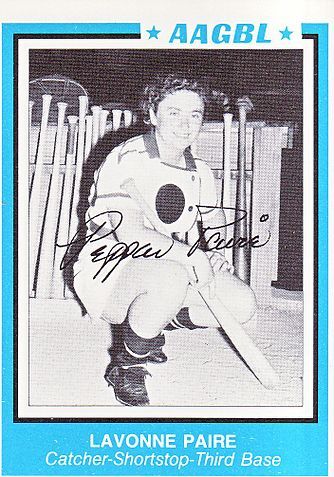 Here are some fascinating facts about Paire Davis, who died on Feb. 2 at age 88 in the Los Angeles area, and how she differed from the character she inspired.



Unlike her fictional counterpart, who lived on a farm in Oregon, Paire Davis actually was born in Los Angeles. As she wrote in her self-published 2008 memoir, Dirt in the Skirt, she was the daughter of a "silver-tongued ladies' man" named Charles Paire and his wife, Tessie, a native of South Dakota who'd come to L.A. with dreams of making the U.S. Olympic team as a swimmer and diver. Paire Davis attended UCLA as an English major and worked as a welder in a shipyard, while she spent her free time starring in local softball leagues until getting a shot at a professional career.

One of Paire Davis's classmates at University High School in 1942 was Norma Baker, later better known as Marilyn Monroe.

Paire Davis got her nickname, Pepper, because as a young woman her blonde hair developed a reddish tint. "Boys would tease me and call me 'Red Pepper,' " she recalled in her memoir. "I would protest and say, 'My hair is not red ... I'm a strawberry blonde.'"

In addition to softball and baseball, Paire Davis briefly played center and linebacker on a female football team.

When Paire Davis played on a softball team in Hollywood, her mother told her that a star who sometimes came to watch the games was a big fan of hers. She hoped it was Tyrone Power, but her fan turned out to be comedian Jimmy Durante.

Davis won championships with the Racine Belles, the Grand Rapids Chicks and the Fort Wayne Daisies, but she never actually played for the team featured in the film, the Rockford Peaches. As depicted in the film, early on they played a game that actually was a hybrid of baseball and softball, but in later years, the sport's rules and equipment came more closely to resemble baseball.

Paire Davis was a much tougher cookie than her fictional counterpart. According to a 1992 Los Angeles Times interview, she once punched an umpire who called her out at second. She also once pitched the first game of a doubleheader and then caught the nightcap.

In the movie, Paire Davis's fictional counterpart gives up baseball when her husband returns home from the war. In real life, Paire Davis kept playing until the league folded after the 1954 season. She did eventually marry a World War II veteran, Bob Davis, with whom she raised three children.

In the 1990s, Paire Davis capitalized on the popularity of A League of Their Own to urge young women to play baseball and softball. In 1994, she was invited to Australia to throw out the ceremonial first pitch for a women's softball league there.

Although Paire Davis didn't make as much money as male major league players - salaries in the women's circuit were $45 to $85 a week in the early years of play - she was thrilled just to play. "I know what it's like for your dream to come true, mine did," she recalled back in the mid-1990s. "Baseball was the thing I had the most fun doing. It was like breathing."
Here's a 2011 video of Paire Davis, throwing out the first pitch at a game.
If Pepper's story "hit home" for you, please take a look at this recent post on Doris Sams, the home run leader in the All American Girls Professional Baseball League.