Phil Everly: Half of the Greatest Rock 'n' Roll Duo
By Patrick Kiger, January 6, 2014 02:59 PM
It's a measure of the greatness of Phil Everly, who died on Jan. 3 at age 74 in Burbank, Calif., that you hear him and his older brother Don practically every time you turn on a classic rock radio station, even when the DJ isn't actually playing "Bye Bye Love," "All I Have to Do is Dream" or another of their many hits from the late 1950s and early 1960s.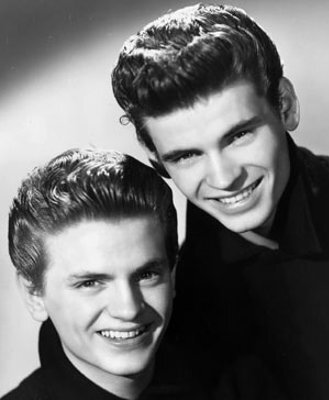 What you hear, over and over, is the sound of the Everly Brothers - those distinctively crisp, close-knit harmonies, with Phil on the higher end, laid over jangling country-style guitar and a rock beat - being imitated by scores of other greats. The Beatles, notably, patterned the vocal harmonies in "Please Please Me" on the Everlys' hit "Cathy's Clown."

"I learned that every syllable can shine," As Art Garfunkel once put it to Rolling Stone. "They were Kentucky guys with beautiful, perfect-pitch harmonies and great diction. All those vowels and consonants, those s's and t's, every one of them killed me."

>> Sign up for the AARP Health Newsletter

Here are 10 facts about Phil Everly and his influential career:

His career began at age 6 on a radio show hosted by his father - a Kentucky coal miner turned country singer - when he began performing with his brother Don, who was two years older.
The Everly Brothers' first big hit was "Bye Bye Love," written by Felice and Boudleaux Bryant, the songwriting team that would provide them with many of their classics. Here they are on live television in 1957.
Some radio stations banned another of their hits, 1957's "Wake Up Little Susie," because the notion of two teenagers staying out late - even by accident - was considered too risque. "It didn't even enter our minds that anybody could object to it," Phil explained in 1984.
Phil wrote the Everlys' 1960 hit "When Will I Be Loved," which Linda Ronstadt turned into a No. 1 hit in 1975.
Early in their careers, John Lennon and Paul McCartney briefly called themselves the Foreverly Brothers, according to The Guardian, a British newspaper.
Phil and Don were estranged for a time, after a 1973 concert in which Phil smashed his guitar onstage and walked off, according to Phil's Los Angeles Times obituary. He spent the next decade working as a solo artist, during which he recorded five albums. In 1983, the brothers reunited to perform a concert at Royal Albert Hall in London, and recorded a song written for them by Paul McCartney, "On the Wings of a Nightingale."
The brothers were in the first class of inductees to the Rock & Roll Hall of Fame in 1986.
Though the Everly Brothers had their tiffs over the years, Phil once explained in an interview that singing helped keep them close. "Harmony singing requires that you enlarge yourself," he said. "Harmony is the ultimate love."


>> Get entertainment and dining discounts with your AARP Member Advantages.

Photo of Phil (left) and Don (right): Bruno of Hollywood, circa 1958, via Wikipedia



Also of Interest



See the AARP home page for deals, savings tips, trivia and more