Phyllis Diller: A Life Reimagined
By Bill Newcott, August 20, 2012 05:05 PM
Phyllis Diller was 37 when she did her first comedy gig. But despite her late start, when Diller died on Aug. 20 at age 95, she'd nevertheless enjoyed one of the longest uninterrupted careers in show biz history.

She became famous as a brassy, bombastic loud mouth. At first, though, Diller wasn't at all sure she should even try standing up in front of an audience.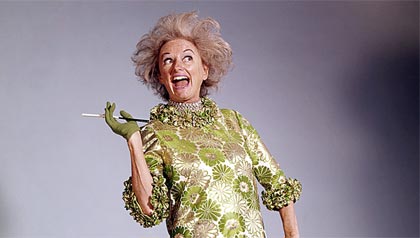 "I was on the diving board, but someone had to put a foot in my butt," she told me in 2006.

The foot belonged to her husband Sherwood (through her comedy routines, we grew to know him as Fang).

See Also: Remembering Phyllis Diller

"He insisted," Diller recalled. "He nagged me for two years. Every time Milton Berle would come on TV wearing a dress, he'd say 'You look better in a dress than he does!' Of course he was right.

"But I said to him, 'You see these children playing here?'

"He said, 'Send them home.'

"I said, 'I can't. They live here!'"

Then she gave me that laugh, that punctuated guffaw that sounded like a cross between a quacking duck and a '57 Studebaker that kept cranking but just wouldn't turn over.

"One day, I just said, 'Okay. I'll do it.'"

At the time, the mother of five (one son had died shortly after birth) was working as a copywriter at a San Francisco radio station owned by Gene Autry.

"I was sitting at my desk one day thinking, 'How the hell do you become a comic?'"

Her answer to that question was counterintuitive, yet somehow ingenious.

"I picked up my phone and I called the Red Cross," she said. "I said 'I have a show. Where do you want it?'

"They said, 'the Presidio.'"

Set at the foot of the Golden Gate Bridge, the Presidio was at the time a military hospital.

"So I took my show to the Presidio," Diller recalled. "I was put into a room with four guys in four beds. They pushed in a piano. I'd brought my eldest child with me. He had a banjo."

And again, that laugh, louder this time.

"I was such a success in that four-bed situation that I was invited back, very quickly ..."

She waited, her timing, as always, impeccable.

"... to the psychiatric ward!"

And now the laugh came as a tsunami. She could barely get her breath.

"We had all these guys shuffling around in their pajamas. Again, I had my son with his banjo. He was about 12 at the time. He later told me that day was the first time he ever realized that his mother was a woman, because the guys were all trying to look down my dress! I was fighting them off, and singing."

On this day I was interviewing Diller by phone for my "Movies For Grownups" radio show - she was promoting her documentary, "Goodnight, We Love You," chronicling her last live standup performance - so I was being careful not to talk or laugh over her story. But she mistook my silence with all the insecurity of a first-time performer.

"Can you hear me, Bill?" she asked, a bit nervously.

Phyllis Diller was afraid she was bombing with some guy on the telephone. I explained myself, and put her at ease.

In the years after she gave up standup comedy, Diller continued to do occasional TV roles and quite a bit of voiceover work. But she discovered that what she really loved to do was paint.

"I'm painting," she said. "I paint madly and they're selling so well I've realized I've hit my final niche. That's n-i-c-h-e. ' Neesh.' Most people say ' nitch.'"

I attempted to count up Diller's careers: Homemaker, comedian, sitcom star, movie actress, painter ... and she told me not to forget her 10 years traveling around the country performing on piano with symphony orchestras. Each program ended with her favorite song from Hello Dolly: "Before the Parade Passes By."

"That's perfect for AARP people," she added. "You know, get out there and do some kick-ups!"

CLICK HERE to hear my two-minute 2007 Movies For Grownups radio show with Phyllis Diller .




Photo: Everett Collection