Ray Manzarek: 5 Facts About the Doors' Keyboardist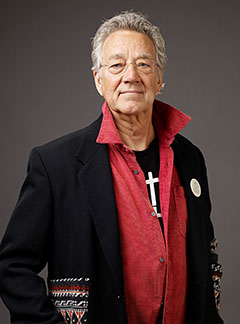 One day in August 1965, UCLA film graduate Ray Manzarek was walking along Venice Beach in Los Angeles when he had a chance meeting with an old college acquaintance named Jim Morrison.

In a moment that would later be enshrined in the mythology of rock music, Manzarek asked Morrison what he'd been up to since he'd dropped out of school. Morrison told him that he'd been writing songs. Manzarek was intrigued. "Let's hear 'em," he said. Morrison responded by kneeling, closing his eyes and slowly reciting the first verse of what eventually would become The Doors' song "Moonlight Drive."

Manzarek was astonished. "Those are the greatest [expletive] song lyrics I've ever heard," he told Morrison. "Let's start a rock 'n' roll band and make a million dollars."

[ Listen to some of Manzarek's great riffs:]


So they did. The Doors, the most darkly apocalyptic and disturbing rock group of the '60s, went on to sell 100 million records, and Morrison, an untutored singer with a mesmerizing stage presence and a penchant for reckless abandon, remains a pop culture icon more than four decades after his mysterious 1971 death in a Paris hotel bathtub.




But it was Doors keyboardist Manzarek, who died on May 20 at age 74 in Germany, who gave the Doors' myriad Top 40 hits that distinctive, instantly recognizable sound that so set them apart from the guitar-centric rock played by other groups - from the oddly bouncy calliope-like intro of " Light My Fire" to the stark, menacing bursts of organ from "Waiting for the Sun." (Alexis Petridis, a rock critic for the British newspaper the Guardian, offers this eloquent tribute to Manzarek's keyboard wizardry.)

In this video, Manzarek - a classically trained pianist who loved jazz - talks about his famous cascading-raindrop piano riff on "Riders on the Storm."


Here are some intriguing facts about Manzarek.



He could have been another Francis Coppola. As a graduate student in UCLA's film school, Manzarek was so talented that Colin Young, the director of the program, said that he could have gone straight to directing films. After the Doors disbanded, Manzarek reportedly spent years trying to make a film about the band - only to be bitterly disappointed by what he saw as the shallowness and inaccuracies in director Oliver Stone's 1991 Morrison biopic The Doors, in which Manzarek was portrayed by Kyle MacLachlan.

He was the reason the Doors didn't need a bass player. When the band auditioned at an L.A. nightclub, Manzarek noticed another group's Fender Rhodes keyboard bass onstage, and it occurred to him that he could play it with his left hand while playing piano and organ riffs with his right. He liked not having a fifth Door, he once said, because "it kept the Doors as a four-side diamond, rather than an evil pentagram."

He got into a legal battle over the Doors' music. Manzarek and guitarist Robby Krieger got into a bitter legal dispute with Doors' drummer John Densmore over Cadillac's 2003 offer to pay $15 million to use "Break on Through" in a TV spot. Manzarek wanted to take the deal, but Densmore opposed it, noting that Morrison had been opposed to a 1968 offer from Buick, which wanted to change the words of "Light My Fire" to "Come on Buick, light my fire."

He was a successful author. Manzarek wrote a best-selling memoir about his experiences, Light My Fire: My Life with The Doors, in 1998, and a 2oo2 novel, The Poet in Exile, about a Morrison-like rock star who fakes his own death and then, decades later, resurfaces.

He was a father figure to 1980s punk rockers. Manzarek became enamored of the Los Angeles-based punk band X, and worked with them as producer and sometime keyboard player. Here's a clip of him performing a cover of the Doors' "Soul Kitchen" with X at the Whiskey A Go Go, a West Hollywood club that the Doors once packed with fans.
Here's a snippet of an interview with Manzarek, in which he recalls the band's controversial appearance on The Ed Sullivan Show, in which a network official unsuccessfully tried to get the band to delete the word "higher" from the lyrics to "Light My Fire."


Photo: Matt Carr/Getty Images
Audio montage courtesy of Paul Ingles via PRX, the Public Radio Exchange

Also of Interest

Join AARP: Savings, resources and news for your well-being


See the AARP home page for deals, savings tips, trivia and more