Richard Attenborough: Versatile Actor Turned 'Gandhi' Director
By Patrick Kiger, August 25, 2014 11:08 AM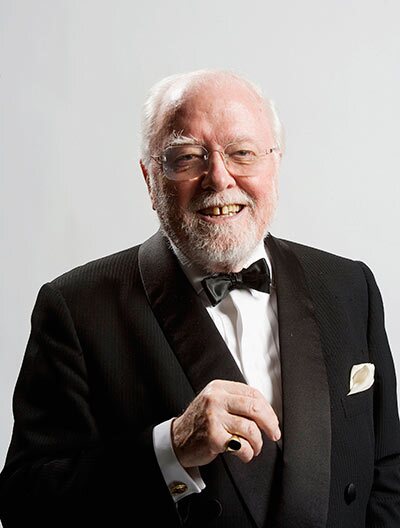 Richard Attenborough had a pretty good career as a character actor. From the 1940s to the mid-2000s, he appeared in nearly 80 films, including the 1963 World War II epic The Great Escape, in which he played the mastermind of a daring flight from a Nazi prison camp, to 1992's Jurassic Park, in which he played bioengineering genius John Hammond, the owner of an ill-fated theme park stocked with cloned dinosaurs.

But Attenborough, who died on Aug. 24 at age 90 in London, achieved greater fame as the director and producer of Gandhi, the 1982 biopic about the Indian leader who defeated the British empire by preaching nonviolent resistance. Attenborough spent more than 20 years struggling to make a film about a subject that the big studios felt was not sufficiently commercial. He also daringly resisted pressure to cast an established star such as Richard Burton in the title role, and instead opted for Ben Kingsley, a British-Indian Shakespearean stage actor who was an unknown to movie audiences. In the ultimate test, Attenborough sank most of his life savings into the film to help cover its $22 million cost.

>> Famous People We've Lost in 2014

In the end, Attenborough's persistence was vindicated. While Gandhi received mixed reactions from critics, it was a box-office hit and earned 11 Oscar nominations, winning eight - including Best Picture, Best Actor for Kingsley, and Best Director for Attenborough. Here is one of the film's most famous scenes, in which Gandhi stages his first protest, despite having been beaten badly by colonial authorities.


Here are some other facts about Attenborough and his distinguished career.



He was born in Cambridge, England, in 1923, the son of a law school professor. His family hosted refugees from the Spanish Civil War and helped Jews to escape Nazi Germany before World War II, experiences that helped to shape Attenborough's empathetic style as a filmmaker.
As a child, he became interested in acting after watching Charlie Chaplin's silent film The Gold Rush, and went on to attend the Royal Academy of Dramatic Art in London. There he was discovered by writer-director Noí«l Coward, who cast him in his first film, 1942's In Which We Serve, in a small role as a sailor who loses his nerve in a battle.
Attenborough's first big role was in the 1947 film Brighton Rock, in which he played Pinkie Brown, a teenage gangster.
In 1952, he originated the role of Detective Sgt. Trotter in the London stage production of Agatha Christie's The Mousetrap, and also had the foresight to obtain a 10 percent ownership stake of what became the longest-running play in theater history. He later tapped into that money to make Gandhi.
In addition to The Great Escape, he also appeared with his friend Steve McQueen in the 1966 film The Sand Pebbles.
Attenborough reportedly became interested in directing because his thin build and baby face hindered him in contending for starring roles in films.


>> Get discounts on health services with your AARP Member Advantages.



An unnamed Hollywood producer told Attenborough that audiences would never pay to see a film about "a brown man in a sheet carrying a beanstalk," according to his New York Times obituary.
Attenborough, who was knighted in 1976 for his contributions to British cinema, served for a time as chairman of the British Film Institute and president of the Royal Academy of Dramatic Art.
In addition to Gandhi, Attenborough directed 11 other films, including A Bridge Too Far (1977), Cry Freedom (1987) and Chaplin (1992), which earned a Best Actor nomination for a young Robert Downey Jr.


Here's a scene from Jurassic Park, in which Attenborough's character is present at the hatching of his dinosaurs.




Photo: BAFTA/Getty Images



Also of Interest



See the AARP home page for deals, savings tips, trivia and more