Richie Havens: 10 Facts About the 'Woodstock' Legend
By Patrick Kiger, April 23, 2013 11:40 AM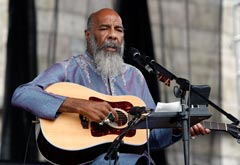 Perhaps the ultimate tribute to guitarist-folksinger Richie Havens, who died on April 22 at age 72 in Jersey City, N.J., is that a Beatle once likened himself to Havens. In a 1971 Rolling Stone interview, John Lennon initially garbled Havens' name, confusing him with the Mexican-American singer who did "La Bomba." But it was clear that he dug Havens' unorthodox, self-taught guitar style.

I think there's a guy called Richie Valens, no, Richie Havens, does he play very strange guitar? He's a black guy that was on a concert and sang "Strawberry Fields" or something. He plays like one chord all the time. He plays a pretty funky guitar. But he doesn't seem to be able to play in the real terms at all. I'm like that.
Havens - like bluesman Albert King, who taught himself to play guitar upside down because he was left-handed - was one of those totally organic, iconoclastic musicians who found his own unique sound out of necessity. He had large hands that would have been better suited for a career in the NBA than for playing guitar, and that seeming liability forced him to develop his own unorthodox "open D" tuning, which enabled him to play chord patterns that couldn't be done with conventional tuning.

Join the discussion: If you could have front-row seats to any concert, who would it be?

Havens' percussive, driving style was augmented by a rich-toned voice that was as powerful as it was unaffected, even when he was interpreting others' songs. His rendition of Bob Dylan's "A Hard Rain's a-Gonna Fall" was the best cover version ever, according to Dylan himself. Havens had his biggest radio hit with distinctive reinvention of George Harrison's "Here Comes the Sun," which he performs in this 1971 TV appearance:




But Havens' shining moment was the Woodstock festival in 1969, when a fortuitous twist of fate - a traffic jam that delayed the scheduled opening act, Sweetwater - forced the promoters to reshuffle the lineup and put Havens up on stage first. He was supposed to play just four songs, but because other performers were delayed, he ended up doing 10 - including an improvisational encore, "Freedom," that he fashioned out of the African-American spiritual "Motherless Child."




Here are some other intriguing facts about an American original:

Havens was a native of Brooklyn's Bedford-Stuyvesant neighborhood. He was the eldest of nine children. His father built tables for a living and played piano in bands on the side, while his mother worked in a book bindery.
As a teenager, he briefly was in a do-wop group who called themselves The Last Men, a reference to the fear of nuclear annihilation during the Cold War.
He was a self-taught artist as well as a musician, and actually got his start in Greenwich Village as a sidewalk portrait painter. "I had my art out on the corner, making $300 a night, I'm not kidding," he explained in a 2009 interview with the folk music publication Sing Out!
He began playing guitar because folk musician Fred Neil - the composer of the song "Everybody's Talkin'," which later became a hit for Harry Nillson - heard Havens singing along with him from the audience during a show, and thought he had potential. "Take this damn guitar home and learn how to play it and then come back," he told Havens.
Havens was discovered by the famous Albert Grossman, better known as Bob Dylan's hard-boiled manager in the documentary Don't Look Back.
His first recording contract was with MGM/Verve, which, oddly, was a jazz label rather than folk.
In a 2005 interview, Havens said he was paid $6,000 to perform at Woodstock. He claimed it was $1,000 more than the supergroup Crosby, Stills, Nash and Young got for their performance.
Once, while trying to teach himself the sitar in a California park, he looked up to see that he had a coyote as an audience.
In the 1980s, he had a successful second career as a TV commercial jingle writer and performer, including the "fabric of our lives" spot for the cotton industry.
He was a friend of Who guitarist Pete Townsend, and in 2008 recorded a cover of the Who's "Won't Get Fooled Again," which he blended into a medley with Dylan's "Maggie's Farm" in this 2009 performance:


Also of Interest

Join AARP: Savings, resources and news for your well-being


See the AARP home page for deals, savings tips, trivia and more



Photo: Jeffrey Ufberg/WireImage/Getty Images