Russell Means: 5 Little-Known Facts About a Native American Activist
By Patrick Kiger, October 23, 2012 08:26 AM
The 1970s was a turbulent time of confrontation and conflict, and Russell Means perfectly fit that zeitgeist. To Native Americans who had endured centuries of oppression, the handsome, charismatic Oglala Sioux with the waist-length braids of black hair was a mash-up of Malcolm X, Abbie Hoffman and Saul Alinsky - a once-wayward soul who found a new purpose as a militant activist and who mixed physical confrontation with political theater.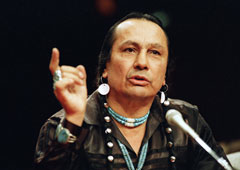 As a leader of the American Indian movement, Means had a gift for forcing his cause into the headlines. In 1970 he led a band of protesters who seized a Mayflower replica during a Thanksgiving parade in Massachusetts, one of the first-ever Native American protests. He denounced the Cleveland Indians mascot as racist. But there also was a hard edge to his stridency: In 1973 he led protesters in a confrontation with federal agents at Wounded Knee, the site of an infamous 1890 massacre of Native Americans by U.S. troops. When the smoke cleared, two protesters were dead and a federal agent was left paralyzed. Means found himself on trial for conspiracy, assault and theft charges, but the case was dismissed in 1974 by a federal judge, who cited government misconduct in the trial.

All of that made him what the New York Times called "arguably the nation's best-known Indian since Sitting Bull and Crazy Horse." But unlike those two 19th-century leaders of his people, when Means died on Oct. 22 at age 72 in South Dakota, he died a free man, and he remained defiant to the end.

Here are five interesting facts about Means.



He had another name. According to his 1995 autobiography, after becoming an activist, he took the Native American name Oyate Wacinyapi, which translates as "works for the people."

He once ran for president. In 1987 he sought the presidential nomination of the Libertarian Party but lost to future GOP congressman and presidential candidate Ron Paul.

He had a second, late-life career as an actor. Means' first role was in the 1992 adaptation of James Fenimore Cooper's 19th-century novel Last of the Mohicans. In this climactic scene, Means' character, Chingachgook, avenges the murder of his son Uncas.

He tried his hand at rock music. In the mid-1990s, Means recorded two music CDs, including 1993's Electric Warrior, in which he recited angry-sounding poems against a driving synth-rock beat.

He remained a protester right to the end. In this 2011 interview, Means explains that he cut off his braids to protest against poverty on reservations and to mourn the decline of Native American languages, with their complexity and purity of expression. He said that English, in comparison, was "so primitive it's embarrassing ... it's not expressive, it's non-truthful." [vimeo http://vimeo.com/40152500]
Photo: Marcy Nighswander/AP Images