Sherman Hemsley: Do the George Jefferson Dance!
By Patrick Kiger , July 25, 2012 10:12 AM
Next to Bill Cosby's Dr. Cliff Huxtable, Sherman Hemsley's George Jefferson - the upwardly mobile but still habitually cranky protagonist of the long-running Norman Lear sitcom The Jeffersons - may have been the most distinctive and memorable African-American comedic character in the history of television.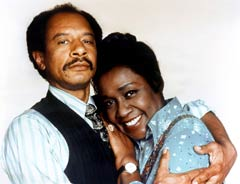 For Hemsley, who passed away yesterday at age 74 in El Paso, Texas, it was a measure of his acting talent that he could make George Jefferson's irascible, rapid-fire sarcasm seem so authentic and natural. As a 1987 profile in the Miami News noted, when the Emmy winner spoke off camera, his words flowed quietly and carefully.
"Once you find the rhythm of the character, for me anyway . . . the words just fall right into place," Hemsley explained in a 2003 interview for the Archive of American Television.
In some ways, Hemsley was a more remarkable rags-to-riches story than his signature character. He grew up in a hardscrabble South Philadelphia neighborhood, the son of a single mother who worked long hours in a factory to support them. Hemsley escaped poverty by joining the Air Force, and after his discharge he worked as a mail sorter at the post office to pay the bills while he pursued his dream of becoming an actor. He was appearing on Broadway in the musical Purlie in 1970 when producer Lear took notice of his abilities.
But for all his skills as a thespian, Hemsley arguably earned his spot in the TV sitcom pantheon as a hoofer. Here's a classic moment from The Jeffersons where George grudgingly demonstrates how to cut a rug.
Years after the show ended, whenever Hemsley was recognized by fans in the street they would ask him to do what became known as "The George Jefferson Dance." As he explained in a 1996 interview, George's gyrations actually were a riff on a once-popular Philadelphia step called The Slop, which Hemsley had learned in his youth from a friend named Freddy Brooks.
Photo: Everett Collection