Shirley Temple: The Biggest Child Movie Star
By Patrick Kiger, February 11, 2014 12:14 PM
At a time when Americans were weathering the tail-end of the Great Depression, child actress Shirley Temple Black was an unparalleled sensation. People not only flocked to her movies and bought Shirley Temple dolls, they also dressed their daughters in dresses and coats modeled after those she wore in the movie Dimples. "Every girl 3 to 14 will want them," proclaimed a 1936 newspaper advertisement for a line of official "Inspired by Shirley Temple" outfits.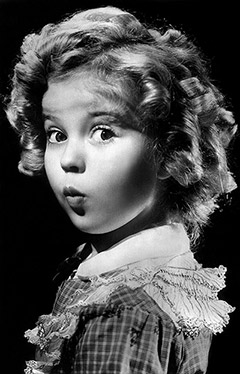 The film credits of Shirley Temple, who passed away on Feb. 10 at age 85  in Woodside, Calif., included Bright Eyes (1934), The Littlest Rebel (1935) and Rebecca of Sunnybrook Farm (1938). According to the New York Times, Black was bigger at the box-office than Clark Gable and got more mail than Greta Garbo. Black resonated in popular culture so thoroughly that surrealist Salvador Dali once did a painting of her, and she appears three times in the crowd on the cover of the Beatles' album Sgt. Pepper's Lonely Hearts Club Band. For decades, it was a measure of promise for budding child actresss - from Hayley Mills to Dakota Fanning - if Hollywood columnists referred to them as "the next Shirley Temple." None turned out to be.

>> Sign up for the AARP Health Newsletter

Here are some things to remember about this Hollywood icon.



She was born in Santa Monica, Calif., the daughter of a bank employee and a homemaker, who groomed her for stardom by enrolling her in dance school at age 3 and styling her hair to resemble that of silent film star Mary Pickford. When her mother took her to auditions, she shaved a year off Black's age to make her seem even more precocious.
Her first appearance in a full-length feature film was in Red Haired Alibi, in 1932. Between then and 1949, when she retired at age 20, she appeared in nearly 60 films, at her peak sometimes making as many as four in a year. Here she is, singing "Animal Crackers" from the 1935 film CurlyTop.

After her song-and-dance number "Baby, Take a Bow" in the 1934 movie Stand Up and Cheer, Fox signed her to her first long-term contract, at a salary of $150 a week plus $25 for her mother to take care of her.

She achieved a cinematic milestone in race relations as the first white actress to hold hands with an African-American actor - Bill "Bojangles" Robinson - in 1935's The Little Colonel. Here are some scenes of her tap-dancing with Robinson.

The Brown Derby restaurant in Hollywood created a nonalcoholic drink - lemon-lime soda mixed with granadine, topped with a maraschino cherry - that was named after her.
In the 1934 film Little Miss Marker, she aroused controversy by uttering expressions such as "Scram!" and "Nix to that!" at the time considered too vulgar for a child. Here she is, singing the song "Laugh, You Son of a Gun" with Dorothy Dell.

At age 8, she received 135,000 birthday presents from fans, according to a 1969 New York Times profile.
As her stardom faded during her teenage years, she attended the Westlake School for Girls and at age 16 married a 24-year-old Army Air Corps sergeant, John Agar. A couple of months after she divorced Agar, she met Charles Alden Black, who claimed that he'd never seen any of her films. Their marriage lasted 55 years, until his death in 2005.
As a grownup, she became a co-founder of the International Federation of Multiple Sclerosis Societies, after her brother George, a former gymnast, developed the disease.
In her forties, Black entered politics, running unsuccessfully in a Republican Congressional primary. But her political fundraising prowess - she garnered nearly $1 million for the GOP - led President Richard Nixon to reward her with an appointment as a U.S. delegate to the United Nations in 1969. She later served stints as ambassador to Ghana and Czechoslovakia.
In 1972, Black became a pioneer in raising awareness of breast cancer. She held a press conference to announce that she had undergone a mastectomy because of the disease. "Don't sit home and be afraid," she counseled. "Don't let vanity get in your way. It's not so bad."


Here's a video clip of Black receiving an award from the Screen Actors Guild in 2006.




Photo: AF Archive/Alamy



>> Get entertainment and dining discounts with your AARP Member Advantages.



Also of Interest



See the AARP home page for deals, savings tips, trivia and more