Sid Caesar: Maestro of TV Sketch Comedy
By Patrick Kiger , February 13, 2014 11:24 AM
Without Sid Caesar, we might not have had Saturday Night Live.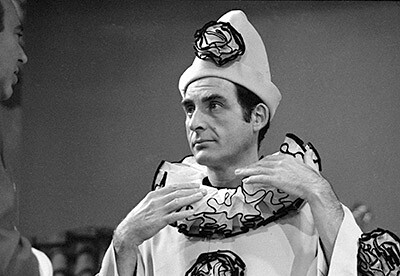 In the early days of TV, some comedians simply got on camera and performed the same slapstick routines that had been a hit for them on Vaudeville, while others tried to replicate the situation comedy of radio shows. But Caesar, who passed away on Feb. 12 at age 91 in Beverly Hills, Calif ., pioneered a new way to make us laugh in the age of television.
>> Sign up for the AARP Health Newsletter
In his three memorable programs of the late 1940s and early 1950s - the Admiral Broadway Revue, Your Show of Shows and Caesar's Hour - he virtually created the art of live sketch comedy, in which he and a troupe of actors created deftly outrageous parodies of everything from popular movies to everyday dilemmas. It helped that Caesar, who as a child amused himself by fashioning the speech of immigrant customers he heard at his father's restaurant in Yonkers it into his own made-up language, was supremely gifted at both mimicry and at spotting the absurd twist that would make a scene uproariously funny.
As one of his writers, Larry Gelbart, once explained in the introduction to Caesar's 2003 memoirs, Caesar "was born with the ability to be all other men. He only had to don a costume, add a mole, a mustache, or a monocle, then assume the right accent and attitudes, and he was able to portray, with dead-on accuracy, anyone from a suburbanite to a Samurai, from a king to a cobbler, from a duke to a drunk."
Here are five of Caesar's most memorable sketches, featuring his talented troupe, which included Imogene Coca , Carl Reiner and Howard Morris.

"The German General," featuring Caesar and Morris, displayed Caesar's gift for inventing foreign-sounding gibberish.

"At the Movies" is a sketch that helped create the template for SNL's stock skit premise in which an ordinary situation steadily gets more and more bizarre.

Caesar and his players pantomimed the mechanical figures on an old-fashioned Bavarian town clock that appear precisely on the hour - until the clock malfunctions, resulting in chaos.

Another of

his masterpieces was a parody of the classic film

From Here to Eternity.

Caesar also had fun lampooning the Italian composer Ruggero Leoncavallo's famous opera

Pagliacci.
Photo: CBS Photo Archive/Getty Images
>> Get entertainment and dining discounts with your AARP Member Advantages.
Also of Interest

See the AARP home page for deals, savings tips, trivia and more