Stan Musial: 10 Fascinating Facts about "Stan the Man"
By Patrick Kiger, January 20, 2013 05:52 PM
Back in 1960, a DC-6 airliner took off from an airport in Pittsburgh with the St. Louis Cardinals baseball team aboard, and 30 seconds into the takeoff, one of the plane's prop engines abruptly failed. As an article in Time magazine recounted the incident, the ballplayers, understandably, became anxious - all except for the team's best player, the great hitter Stan Musial, then in his 19th year in the majors. "I can see the headline now," he joked to a teammate. "CARDINAL PLANE CRASHES - MUSIAL LONE SURVIVOR."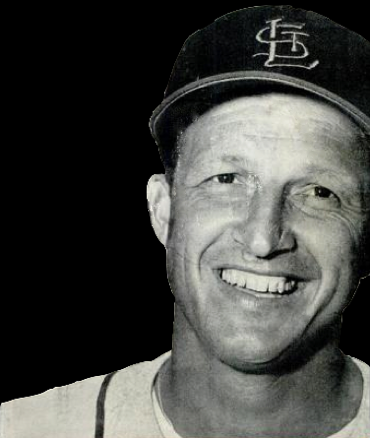 As Time noted, it wouldn't have been that big of a surprise. After all, Musial lasted an astonishing 22 years in the majors, all with the Cardinals. And throughout an athletic career that spanned nearly a quarter-century, he was one of the most feared hitters in the game, a lefty famed for his ferocious line drives. He topped the .300 mark 17 times in his career, won seven National League batting titles and three Most Valuable Player awards. In 1969, Musial was elected to the Baseball Hall of Fame in a landslide, getting votes on 93.2 percent of the ballots.

Do you root for the underdog in sports? Join the Discussion

But there was more to Musial, who died on Jan. 19 at age 92 in Ladue, Mo., than just longevity and his trademark corkscrew stance at the plate, which an opposing coach once likened to "a kid peeking around the corner to see if the cops are coming." Musial, as teammate Joe Garagiola once described him, was "a saint with money," a remarkably pleasant superstar who cracked droll jokes in the locker room and admitted to being embarrassed about being, for a time, the National League's highest-paid player.

Here are 10 fascinating facts about "Stan the Man":



He was born in Donora, a mill town outside of Pittsburgh, and was the fifth of six children of a Polish immigrant steelworker and his Czech-born wife. Musial's childhood nickname was Stashu, the Polish diminutive for Stanislaus.

Musial's first sport was gymnastics, not baseball. He was a gifted tumbler, and according to biographer Joseph Stanton, his early training helped make him more agile as both a fielder and base-runner.

Though his lasting fame stemmed from his hitting, Musial initially was a standout as a pitcher. Playing as a 15-year-old for the Donora Zincs against adults, he once struck out 13 batters in a game. In the minor leagues, he was forced to switch to playing outfield after he fell while making a diving catch during a minor league game and injured his shoulder, which sapped the strength from his throwing arm.

The Pittsburgh Pirates, the team that Musial rooted for as a boy, actually invited him to Forbes Field and gave him a tryout, but hesitated to sign him to a minor-league contract because team officials felt he was too skinny, according to Stanton.

Unlike many white major league players of his era, Musial had no problems with integration in baseball. According to biographer George Vescey, Musial once joined his high school basketball teammates in threatening to forfeit an important tournament because a hotel restaurant wouldn't seat their African-American teammate Buddy Griffey - the father of future major leaguer Ken Griffey - in the main dining room.

In 1948, Musial just missed out on winning baseball's coveted Triple Crown. He hit a home run in a game that was later nullified because of a rainout, which left him with 39 homers, one shy of league-leading Ralph Kiner and Johnny Mize.

When John F. Kennedy decided to run for president, he sought Musial's support, and in 1959 went to meet the ballplayer outside a Milwaukee hotel where the Cardinals were waiting for their team bus, according to Vescey. "They tell me you're too old to play ball and I'm too young to be president, but maybe we'll fool them," Kennedy reportedly told Musial, who went on to become an enthusiastic supporter and make campaign appearances on JFK's behalf the following fall, as part of a celebrity contingent that included actress Angie Dickinson and author James Michener.

According to St. Louis Post-Dispatch sportswriter Rick Hummel, Musial actually got his "The Man" nickname from Brooklyn Dodgers fans at Ebbets Field, who were awed by his pounding of Dodgers pitching. Bob Broeg, the Post-Dispatch scribe covering the game heard the fans' chants, and after he mentioned it in his story, the moniker stuck.

Musial enjoyed playing the harmonica in his spare time, according to Hummel.

Musial got the last two hits of his career on the final day of the 1963 season, twice slamming the ball past the reach of a Cincinnati Reds second-baseman named Pete Rose to finish with a National League-record 3,630 career hits. Eighteen years later, Rose would be the one to break Musial's record.


Here's a video of Musial talking about receiving the Presidential Medal of Honor from President Obama in 2011.