Storm Thorgerson: 5 Facts About the Iconic Album-Cover Designer
By Patrick Kiger, April 23, 2013 06:57 PM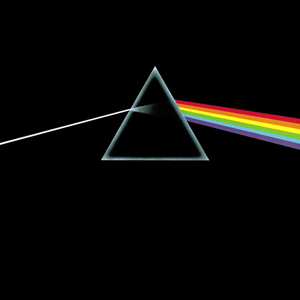 Graphic designer Storm Thorgerson, who died on April 18 at age 69 in his native England, created something that just about every boomer who came of age in the 1970s had in his milk crate of record albums: that iconic image of light passing through a prism that graced the cover of Pink Floyd's 1973 LP Dark Side of the Moon (see right). That cover alone would have justified science-fiction author Douglas Adams' conclusion that Thorgerson was "the best album designer in the world."

Thorgerson, a graduate of Royal College of Art in London and co-founder of the design firm Hipgnosis, was most strongly associated with Pink Floyd - he also dreamed up the incongruous cow on the cover of Pink Floyd's 1970 album Atom Heart Mother and the businessman in flames on 1975's Wish You Were Here, among others. But he also created scores of other iconic rock images that filled our youthful imaginations, such as the dreamlike, distorted image of Peter Gabriel seen through a rain-streaked car windshield on his 1977 debut solo LP, Peter Gabriel, which became known as the "Car" album because of its striking cover. Thorgerson designed some 300 record and CD covers in his career - "I don't really keep count," he explained in a 2011 interview - and worked with a veritable who's who of classic rock bands, including Led Zeppelin, Black Sabbath and Styx, though he also designed artwork for bands as diverse as speed-metal headbangers Anthrax and the saccharine 1990s pop band the Cranberries.

But no matter what the assignment, Thorgerson - who was strongly influenced by surrealist artists Rene Magritte and Man Ray, among others - applied a knack for uncovering the psychological landscape that lay beneath rock. According to the Guardian, a British newspaper, he once explained it this way: "I listen to the music, read the lyrics, speak to the musicians as much as possible. I see myself as a kind of translator, translating an audio event - the music - into a visual event - the cover. I like to explore ambiguity and contradiction, to be upsetting, but gently so. I use real elements in unreal ways." Here's a TV interview with Thorgerson from a few years back:


Here are five intriguing facts about rock music's visual virtuoso:

When Thorgerson presented the artwork for Pink Floyd's Atom Heart Mother - a solitary brown and white cow, staring into the camera, sans the album title or even the band's name - officials at the band's label, EMI, were apoplectic. "It was: 'What the f--- is this thing?'" Powell later told British journalist John Harris. "They had no concept of something that was so original." Since the band members were longtime friends of Thorgerson, however, the label had little choice but to accept the art. Executives' fears were assuaged a bit when the LP was released and reached the top of the charts.
According to a 2011 Rolling Stone interview, Thorgerson came up with the design for Dark Side of the Moon because band member Richard Wright had admonished him, "Could we not have one of your funny pictures, Storm?"
Thorgerson is often credited with designing the cover of Led Zeppelin's 1973 album Houses of the Holy, which is inspired by Arthur C. Clarke's science fiction novel Childhood's End. But actually, according to rock historian Paul Grushkin, it was Thorgerson's partner Aubrey Powell who came up with the cover after the band angrily rejected Thorgerson's original concept - a picture of a green tennis court. Led Zep took that as an insult, saying it inferred that their music was racket.
To create the image of a businessman on flames for Wish You Were Here in 1975, in the era before computerized special effects, he had to actually set one of the two actors - stuntman Ronnie Rondell - on fire for real as they shook hands. Rondell wore asbestos protective gear under his suit and his wig, but even so, a gust of wind momentarily ignited his actual mustache. "They both seemed rather untroubled by this event," Thorgerson recalled in a a BBC interview.
One of Thorgerson's oddest creations - the pig floating over an industrial plant on the cover of Pink Floyd's 1977 album Animals -actually did fly for real. According to Grushkin, when Thorgerson supervised the launching of a helium-filled hog balloon over London's Battersea Power Station, his insurance company initially compelled him to have a marksman armed with a rifle on hand, in case the pig broke free and had to be shot down.