Tom Laughlin: The Renegade Who Challenged Hollywood and Won
By Patrick Kiger, December 19, 2013 01:48 PM
Action flicks of the 1970s featured an army of two-fisted tough guys with hard stares and gritted teeth, who angrily defied the establishment and did things their own way, especially if that entailed acts of violence at frequent intervals. But none was angrier, more defiant or more willing to kick butt and take names than Billy Jack, the protagonist of a trio of films by actor-director-producer Tom Laughlin.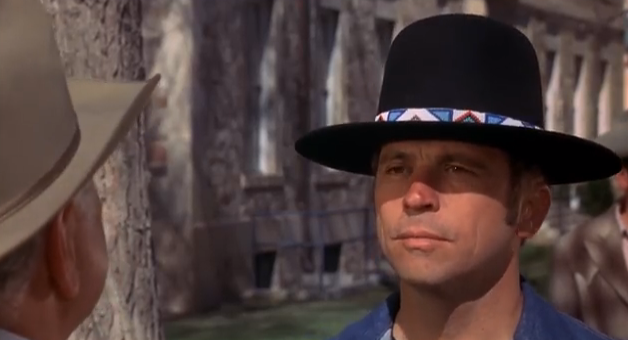 Laughlin, who died on Dec. 12 at age 82 in Thousand Oaks, Calif., created a hero who, in some ways, seemed cobbled together from parts of various low-budget exploitation genres, from biker films and westerns to Hong Kong chop-socky flicks. A troubled ex-Green Beret with Native American blood, Billy stomped through the West in a black hat and a denim jacket, confronting injustice and protecting hippies and pacifists from small-town bullies and thuggish sheriffs with his martial arts wizardry. All the while, he vociferously debated himself about whether his incipient mayhem was justified - though in the end, that never seemed to stop him. That paradox was exemplified by his trademark "I ... just ... go ... BERSERK!" scene from 1971's Billy Jack.


"Show Us Your Modern Family" Photo Contest. Upload your photo for a chance to be photographed in AARP The Magazine. See official rules.

In real life, Laughlin was an equally earnest firebrand. Discontented with studio execs who wouldn't give the first Billy Jack movie the promotional push that he felt it deserved, Laughlin fought a bigger legal battle and eventually got back the rights to his work. He then brazenly kicked a gaping hole in Hollywood's long-standard distribution system, which let a few executives at the top decide what the public got to see. In 1973, with his own money, Laughlin rented 1,200 theaters across the country and did his own flamboyantly hyperbolic promotion. ("Don't miss this opportunity to see one of the most popular motion pictures of all time!" one newspaper ad proclaimed.)

Somehow, to the consternation of critics who sneered at the film, Billy Jack was a hit on the second go-round. The film, which cost an estimated $800,000 to make, eventually grossed more than $100 million.

Here are a dozen facts about Laughlin:

Laughlin played football at Marquette University in Milwaukee before transferring to the University of South Dakota, where he met his future wife and costar, Delores Taylor. According to Variety, it was there that he also witnessed the mistreatment of Native Americans, which helped inspire Billy Jack.
After moving to Hollywood, Laughlin broke into the business with small roles in long-forgotten TV series such as Matinee Theatre and Navy Log, according to the Internet Movie Database. His first movie role was in 1956's Tea and Sympathy.
Laughlin first created the character of Billy Jack for a biker exploitation film, The Born Losers, in 1967.
Billy Jack owed his fighting expertise to Bong Soo Han, a grandmaster in the Korean martial art of Hapkido. After witnessing Han wow a crowd with a demonstration of his high kicks, joint locks and knife-hand strikes, Laughlin approached him and said that he wanted his movie audience to react the same way, Han recalled in a 1996 interview in Black Belt magazine. Han, who trained U.S. and South Korean soldiers, not only agreed to teach Laughlin but became his stunt double in the films. It actually is Han who fights the gang of thugs in the famous fight scene in the square in the first Billy Jack.
Billy Jack helped increased the popularity of Korean martial arts in the United States, and also may have paved the way for Chuck Norris, whose cowboy-hat wearing character in the 1990s TV series Walker, Texas Ranger at times seemed to be channeling Billy Jack's mojo.
Laughlin wasn't the first filmmaker to rent theaters to show his movies and collect the profits. Charles Chaplin did the same thing on a smaller scale in 1947, renting a New York theater to premiere his film Monsieur Verdoux, according to indie film distribution expert Phil Hall.
Critics loathed Billy Jack. The New York Times' Vincent Canby was particularly harsh, writing that "the sentiments of Billy Jack are pure. They're also brainbendingly dumb." Laughlin responded to his detractors by taking out a full-page ad in Variety in 1975, in which he asked, "Why is it that editors continue to employ critics who are totally out of touch with the audiences they are paid to review for?"


>> Get discounts on health products and services with your AARP Member Advantages.



Also of Interest



See the AARP home page for deals, savings tips, trivia and more