How to Make a City More Walkable
By Melissa Stanton, November 17, 2014 08:00 AM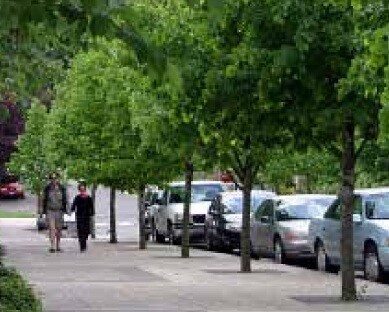 Recognizing the need for more walkable communities to benefit older adults and people of all ages, Marketplace Weekend, an American Public Media broadcast that airs on NPR, visited with Nancy LeaMond, executive vice president of the AARP state and national group, which includes AARP Livable Communities.
>> See if your town or city is in the AARP Network of Age-Friendly Communities
AARP's efforts to help communities become less car-dependent are motivated by the reality that, by 2030, 20 percent of the U.S. population will be age 65 or older, that the vast majority of older adults want to stay in their homes and communities for as long as possible and that many people will live several years beyond their ability to safely operate a motor vehicle.
However, if the safety and mobility of a community's residents isn't enough of a reason for a town or city to improve its walkability, LeaMond notes: "The more walkable a community, the higher its property values ... it's a good investment."
As part of the Marketplace segment, host Lizzie O'Leary took a walk in Washington, D.C., with her 76-year-old father, Buck, and occupational therapist and fall prevention expert Tori Goldhammer. The trio made the following observations during their outing: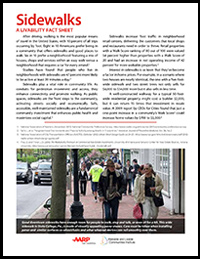 1. Sidewalks need to be well maintained and kept hazard-free: That means buckling or raised sidewalks, often the result of tree roots, need to be repaired and flattened. Wet leaves need to be swept away and snow and ice cleared.
2. Outdoor seating is important: Benches enable tired walkers of all ages to take a break.
3. Crosswalks need to allow enough time for crossing: Having pedestrians stuck in traffic lanes when the light changes is a tragedy waiting to happen.
>> Sign up for the AARP Livable Communities Newsletter
4. Streetlights matter: Aside from helping deter crime, streetlights help deter stumbles and falls by enabling walkers to see what's in front of their feet.
5. Bike lanes are essential: Since sidewalks are for pedestrians and motor vehicles rule most roads, bicyclists need a protected path of their own.
We'd add an item 6. Sidewalks need curb cuts: While these sidewalk on and off ramps are essential for people who use wheelchairs, they're also super handy for parents with kids in strollers, travelers pulling wheeled luggage and people of any age venturing to and from the grocery store or laundromat with their own shopping cart in tow.
Listen to the broadcast below or on the Marketplace website (which, by the way, includes several fun walkability-related video clips):
[playlist ids="106857"]
To learn more about creating walkable, livable communities, visit AARP.org/livable and the AARP Network of Age-Friendly Communities at aarp.org/agefriendly.
Melissa Stanton is an editor and project manager for AARP Livable Communities.
---
Also of Interest

See the AARP home page for deals, savings tips, trivia and more.