Strengthening Community, One Individual at a Time
By Nancy LeaMond, July 30, 2013 03:12 PM
When it comes to strengthening community, we talk a lot about the role of institutions: government, business and nonprofits. But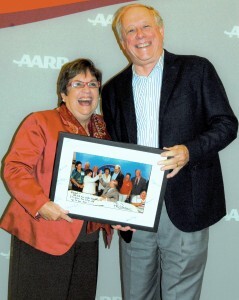 an underreported and underappreciated story is the role of the individual - you and me. There are so many engaged and active people across the country who are creating significant and lasting change in their cities and communities. And I have a wonderful example in longtime AARP volunteer Margot Seay.
A resident of Kingsport, Tenn., Margot saw a need for her community to adapt to, and embrace, an age-diverse population. Largely due to Margot's advocacy, tenacity and strong relationships with local officials, Kingsport created a blue-ribbon task force of former city officials who pledged to make Kingsport a model livable community for people of all ages. After working with Margot and the AARP Tennessee state office to survey the public to solicit their feedback and ideas, Kingsport prioritized:



Creating safe and accessible places for outdoor activity

Improving roadway safety

Reinvigorating their downtown area
Kingsport has developed a trail for walking and biking called the Greenbelt - which is easily accessible from various points across the city. They took on the simple and affordable job of re-striping several streets, which made streets safer for cars and pedestrians (and also improved some of their parking issues). And last we checked, they were seeking bids to redevelop their downtown area.
Margot is one shining example of the millions of people who are looking for opportunities to make a difference. If you have any best practices or ways that you've brought about positive change in your community, we'd love for you to share your story at www.AARP.org/livable. And if you're looking for new ways to give back, please visit www.createthegood.org to find volunteer opportunities near you.
- Nancy LeaMond, executive vice president, AARP State and National Group
As Executive Vice President, AARP State and National Group, Nancy LeaMond leads government affairs and campaigns for AARP. Nancy also has responsibility for AARP's state and livable communities portfolio, which includes transportation and housing initiatives in states, cities and communities across the country.