Novedades en DVD: La magia de Miyazaki, una mansión inglesa y la seducción de Rita Hayworth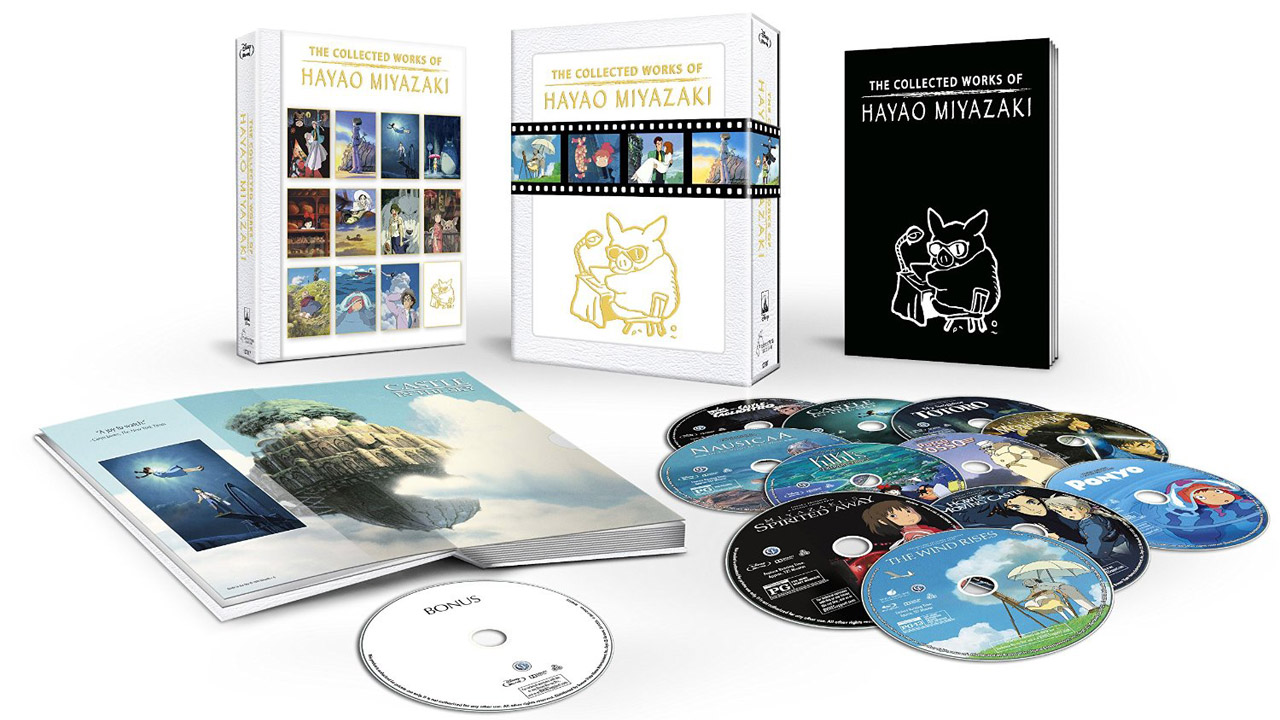 The Collected Works of Hayao Miyazaki

(Walt Disney Studios)

En Estados Unidos, estuvo Walt Disney. Y en Japón, está Hayao Miyazaki. No es una exageración afirmar que ambos creadores han sido de igual peso artístico para el cine de animación. Fundamentalmente, son los dos maestros universales del género. Miyazaki –que hoy tiene 75 años y se encuentra casi jubilado– creó a través de sus Estudios Ghibli un universo fantasmagórico, irresistiblemente poético, inspirado en la inocencia de la juventud y la belleza transformadora de la naturaleza. Esta caja en formato blu-ray incluye las 11 películas que dirigió personalmente. Se destacan la aventura exótica de The Castle of Cagliostro (1979), la ternura de la brujita Kiki y sus esfuerzos por independizarse en Kiki's Delivery Service (1989) y la simbología épica de The Wind Rises (2013). Son películas para grandes y niños por igual, con historias complejas acompañadas por imágenes de una imaginación despampanante. Para los que inviertan en esta elegante caja y se vean transformados en admiradores de Miyazaki, vale la pena señalar que el maestro participó también en la creación de otros largometrajes indispensables como Whisper of the Heart (1995) y From Up On Poppy Hill (2011) esta última dirigida por su hijo Goro. Imprescindible.

FOTOS: La magia de Walt Disney


Downton Abbey

Season 6

(PBS)

Llegó el final. Era necesario, por más que lo lamentaran los millones de fanáticos de la serie más vista en la historia de la televisión. Downton Abbey –institución del romanticismo inglés, estandarte de las suntuosas producciones del nuevo milenio– había mostrado una considerable fatiga narrativa en su quinta temporada. Llegó la hora de cerrar un ciclo, de escribir el último capítulo, apagar la luz. Y es precisamente la melancolía de esta coyuntura –porque decir adiós es siempre tan triste– que genera una de las mejores temporadas de la serie, por no decir la mejor de todas. Como siempre merecen elogios la música, las actuaciones del extenso elenco, la iluminación y escenografía. Pero el genio de esta empresa es Julian Fellowes, creador y guionista. Con esta maravillosa obra, se ha consagrado como mago de la cultura popular.


Suscríbete al nuestro boletín informativo para que estés al tanto de los temas que te interesan.

Gilda

(The Criterion Collection)

En Latinoamérica, "el cachetazo de Gilda" –la escena en que Glenn Ford le propina una sonora bofetada a su ex-novia, Rita Hayworth, en un club nocturno de Buenos Aires– causó sensación. Una escena clave del cine clásico hollywoodense, pero además una de las películas fundamentales del "film noir" de los años 40: policiales oscuros, con personajes de motivaciones turbias que difícilmente encuentran la redención. Como siempre, la cuidada edición de Criterion incluye un comentario adicional en audio con un crítico que analiza la película, además de varios documentales que explican a Gilda en su contexto histórico. Una femme fatale que luce hoy tan juvenil como siempre.


Bitter Rice

(The Criterion Collection)

De repente, en 1949, aparece Silvana Mangano en las pantallas cinematográficas, y los corazones de los hombres laten con mayor rapidez. La presencia de la actriz italiana –tenía sólo 19 años– es el núcleo sensual y absoluto de Arroz amargo, un film perteneciente al neorealismo italiano que mucho se inspiró del estilo noir de Gilda. Su sórdida trama policial cobra vida gracias al entorno de los arrozales y la difícil vida de sus trabajadoras. Una película recia, texturada, que bien vale la pena revisitar, o descubrir por primera vez.


Disfruta tu tiempo libre con los descuentos de AARP te ofrece

The Assassin

(Well Go USA)

Cualquier película que ganó un premio a mejor director en el festival de Cannes merece respeto. Más aún cuando sus imágenes están plasmadas con la visión meticulosa de un pintor o un fotógrafo. Quizás el único problema con The Assassin haya sido la necesidad de su distribuidor de promoverla como una película de artes marciales. No lo es, al menos en el sentido convencional de la palabra. La suma completa de sus combates no supera un par de minutos. El prestigioso director Hou Hsiao-Hsien parece interesado en otros temas: los sonidos bucólicos de la naturaleza –pajaritos, el ruido del viento– y la teatralidad con que sus personajes maniobran las intrigas de la dinastía Tang. Casi indescifrable en su trama, The Assassin es retorcida y sofisticada. Altamente recomendable, pero solo para los espectadores con la paciencia necesaria como para verla varias veces y disfrutar de sus silencios.




También te puede interesar: