Una menuda empleada es la nueva superestrella de la canción de AARP
By Bill Newcott , May 26, 2015 10:50 AM
Janet Hines-Norris, de 53 años, una empleada de limpieza de 1m 55cm de Mishawaka, Indiana, que durante años ha cantado cada día en su trabajo, podría estar a punto de cambiar de carrera.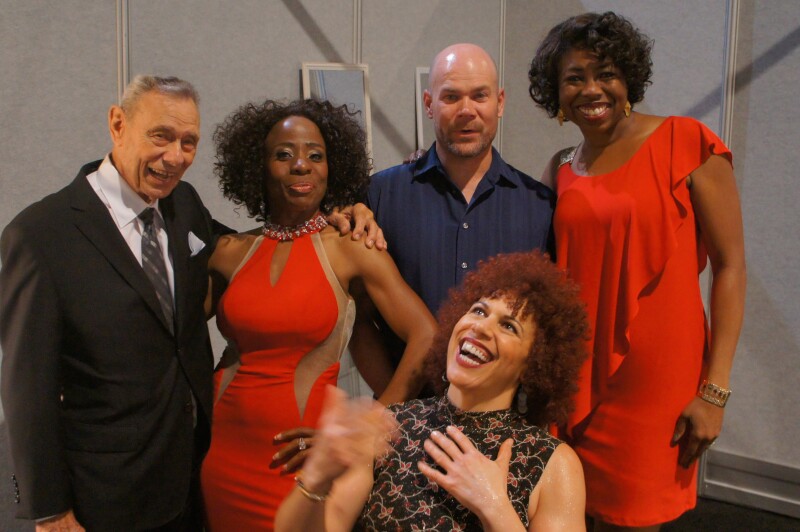 Con dos canciones, impactó a un panel de leyendas de la música, puso de pie a una audiencia de miles de personas dos veces, venció a cuatro competidores y dejó el escenario como ganadora de la competencia de canto Superstar de AARP que fue presentada por Arsenio Hall .
Fotos: La éxotica vida de la dominicana María Montez, estrella en Hollywood
Una noche agradable en Miami Beach se volvió tórrida cuando Hines-Norris cantó su versión del clásico de Whitney Houston "The Greatest Love of All". Tena Clark, una productora ganadora del premio Grammy, se quedó boquiabierta con las notas finales de Hines-Norris y Chaka Khan, que ha vendido 70 millones de discos, solo pudo decir: "¡Cantaste mejor de lo que podría haberla cantado yo!"
Los finalistas (de izquierda a derecha): Rudy Torrellas, Janet Hines-Norris, Billy Spence, May Palmer y Valerie Geason
Suscríbete al nuestro boletín informativo para que estés al tanto de los temas que te interesan.
La competencia Superstar coronó el segundo día del evento para socios Life@50+, de AARP, donde más de 2,000 socios entusiastas colmaron el Teatro AARP del Centro de Convenciones de Miami Beach. Con sus celulares, los participantes de la audiencia enviaron mensajes de texto con su preferencia de ganadores en la primera ronda de las presentaciones, cuando los cinco finalistas se redujeron a dos: Hines-Norris y Rudy Torrellas, un abuelo de 85 años de Guaynabo, Puerto Rico, que cantó el clásico de Frank Sinatra "Fly Me to the Moon".
"Rudy, ¿te molestaría si subo a darte un abrazo?", preguntó Emilio Estefan, uno de los integrantes del jurado.
En la segunda ronda, Torrellas cantó otra de Sinatra, "Strangers in the Night", mientras que Hines-Norris interpretó la famosa canción de Bette Midler "Wind Beneath My Wings".
Al final, la directora ejecutiva de AARP, Jo Ann Jenkins, le entregó a Hines-Norris el gran premio: un cheque por $5,000. Además, Hines-Norris viajará a Pasadena, California, para una grabación profesional en los estudios de DMI Music.
https://player.vimeo.com/video/128058727
Kenny Loggins, que también participaba del jurado, cerró la noche y la competencia del 2015 con su exitosa canción "Footloose".
"Debo decirles", expresó Loggins, "que no estaba preparado para el nivel de talento que vimos aquí hoy. De eso se trata AARP: de no darse por vencidos ni dejar de lado los sueños".
Foto y videos: Bill Newcott
Disfruta tu tiempo libre con los descuentos de AARP te ofrece
También te puede interesar: