Retirement Gamble: Wake-Up Call on 401(k) Fees
By Deb Silverberg , April 24, 2013 01:06 PM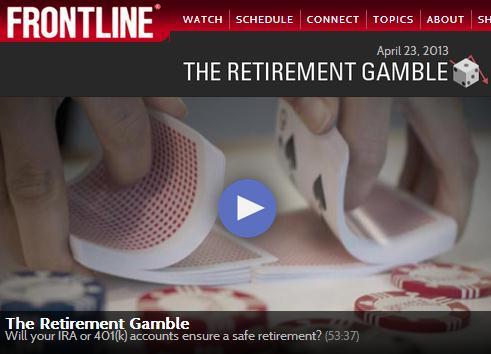 Worried about how you're going to pay for retirement? Join the club. A PBS Frontline documentary called The Retirement Gamble shows that you're in good company. The silver lining: a brighter spotlight on hidden fees, plus information to help make the most of whatever you can sock away.
Kudos to journalist Martin Smith, who 'fessed up to the common mistake of saving for his kids' education at the expense of his own retirement security (more on why it's okay - and necessary - to put your retirement first). Life events like a divorce didn't help his retirement bottom line. Like many others, he'll likely be working until his mid-70s. But at least he'll be doing it on his own terms as a small business owner.
Other brave people in the documentary put a human side on the realities of the stock market bubble, being younger and afraid of what the future holds, and being older, out of work, and under water on your home. What will likely hit home for many: how long-term unemployment can drain your retirement nest egg when you have no other way to pay for the roof over your head and your other bills.
If you watched "Gamble" and you're not that familiar with how fees play into the retirement planning industry, it was likely an eye-opener. In fact, seven out of 10 people don't know that they pay 401(k) fees according to this study conducted for AARP. Instead of a retirement security system, finance journalist Helaine Olen calls the patchwork of what Americans are dealing with "a retirement mess."
Here are some key takeaways from the documentary, and some information to help - whether you're mid-30s to mid-50s or beyond.

Worried that you're past 50 without enough saved and you'll never catch up? Take a deep breath and get some wisdom and action-oriented advice via Barbara Friedberg's article.
Above all, be glad that Americans are finally talking about the importance of saving for the future and what can get in the way - and that more employers are getting clued in to the value of older workers. Cheers to raising awareness, and to greater retirement security for all.
Let us know your thoughts in the comments. If you're on Twitter follow @AARPMoney and join the conversation there, too.
Also of Interest

Join AARP: Savings, resources and news for your well-being
See the AARP home page for deals, savings tips, trivia and more