5 Tips for a Fabulous & Frugal Christmas Tree
By Jeff Yeager, November 28, 2011 04:22 PM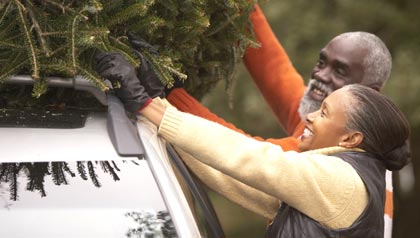 I'm always hit with a little wave of Charlie Brown anxiety when we head off to buy the family Christmas tree shortly after Thanksgiving. Like Charlie, somehow I just know that the trees we'll find can never measure up to the vision of the perfect Christmas tree I have in my mind's eye.

But this year I've done my homework on tree shopping and getting the best bang for your "tree buck," so I have hope anew. Here's what I found (and a few of these tips may surprise you).

- Buy Early: If you haven't already purchased your tree, it's best to do so soon. Most Christmas tree retailers only receive one shipment of trees for the season, so they aren't getting any fresher.

- Go Big: Many retailers have a flat price for any tree on the lot. Instead of choosing a tree that's just the right size for your space, buy the biggest tree for the price and then cut off the lower branches (and trunk) to make wreaths, pine roping, etc. How's that for frugal and green?

- Shine the Light: There's a reason why many Christmas tree lots are poorly lit. With poor lighting, you might not notice that a tree is losing its needles or other defects. Shop during daylight hours, or bring a flashlight with you. Shake the tree vigorously and run your hand down the branches to check for needle loss - a sure sign that a tree is past its prime.

- Get It (and Yourself) Home in One Piece: One year I finally found the perfect tree, but I was so anxious to get it home that I didn't tie it down properly and it flew off the car halfway home. Fortunately it didn't cause a traffic accident, but in the end it looked more like firewood than a Christmas tree. Now I go prepared with my own rope, and I take my time loading.

- Consider a Truly "Live" Tree: If you live in a climate where it's practical, consider buying your Christmas tree with the root ball still intact so you can plant it outside after Christmas. The U.S. Department of Energy says that planting as few as three trees around your house can reduce heating and cooling costs by as much as 20 percent.

Once you've found the perfect tree, check out this website for tips on keeping it healthy (key hint: water often). Happy holidays!

Photo by Blend/Getty Images.