A Cheaper Alternative to Surf and Turf
By Jeff Yeager, December 26, 2012 10:38 AM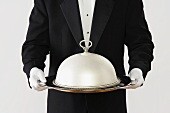 Looking for a festive-but-frugal dinner for New Year's Eve or Valentine's Day? Try this recipe for "surf and turf cheapskate-style." I don't claim it's as good as real lobster tails and filet mignons. But at a fraction of the cost, it's pretty darn tasty in its own right.
See also: Holiday cocktail recipes
I like to serve it with baked potatoes and steamed broccoli, or a nice Caesar salad. And if you skimp on the champagne by buying an inexpensive bottle, that's okay too, but at least go the extra mile and print out a fancy or romantic label on this free website so that you ring in the New Year with a bottle of bubbly that at least looks expensive.

Mock Lobster Tails

1 small/medium sized fillet of cod, flounder, tilapia, or other meaty white fish* per person/tail
3 tablespoon butter per fillet
Paprika
Melted butter and lemon slices/juice for serving
(*monkfish works best, although it's fairly expensive and can be hard to find)

Dot the top of each fish fillet with butter, then roll them up as tightly as possible - narrowest end to the widest end - like fillet of fish "cigars." Brush the outside with melted butter and use butcher's string to tie up each fillet "truss style" (Google it!), like a tiny roast. The idea is to keep the fillet as tightly rolled and compacted as possible, and replicate the little indentations found on real lobster tails. Sprinkle with a little lemon juice and paprika. Place under the broiler on an ovenproof pan and broil until fish is fully cooked, approximately 5-8 minutes. Remove string and serve with melted butter and lemon wedges. You can even make a mock lobster tail shell (sort of) with a piece of red pepper or red cabbage.

Mock Filet Mignon

(makes 4 servings/mock filets)

4 slices bacon
1 pound lean ground beef
8 ounces mushrooms, finely chopped
3 cloves garlic, minced
¼ cup onion, minced
2 egg yolks
2 tablespoons Worcestershire sauce
Salt and pepper
4 tablespoons butter
½ cup red wine
1 tablespoon Dijon mustard
½ teaspoon dried rosemary
Cook bacon strips in frying pan on stovetop until they just start to brown. Remove bacon strips (but not drippings), and add onion and garlic to the pan and sauté until onion is translucent, then add mushroom and continue to sauté until liquid from the mushrooms evaporates. Place contents of the pan in a bowl and mix in ground beef, egg yolks, and Worcestershire sauce. Form mixture into four patties, and wrap each with a strip of bacon secured with toothpick. Season lightly with salt and pepper. Melt butter in frying pan, then cook patties to desired degree of doneness (approximately 4-8 minutes per side), turning once. Remove patties from pan, and remove the toothpicks. Deglaze the pan with the wine, and stir in mustard and rosemary, simmering approximately one minute until sauce thickens; serve sauce on top on mock filets.

Happy New Year and Bon Appe-cheap!