Banks Advised on Ways to Protect Older Customers
By Eileen Ambrose , March 24, 2016 01:45 PM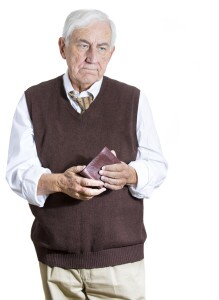 En español | The statistics are grim and are predicted to only get worse as the boomer generation ages.
Nearly 1 in 5 Americans over 65 say they have been a victim of financial exploitation, according to a poll released this week by the nonprofit Investor Protection Trust. And estimates of the total losses each year suffered by these older consumers range from $2.9 billion to nearly $36.5 billion.
To combat this, the Consumer Financial Protection Bureau issued an advisory on steps that banks and credit unions can take to prevent financial abuse.
"Financial institutions are especially well positioned to take on this role and prevent such fraud," says CFPB Director Richard Cordray. "In part it is because they know their customers well and often have more opportunity to deal with older consumers face to face when they engage in transactions. They also are in a unique position to detect when an elder account holder has been targeted or victimized. And when they do identify problems, they are in a position to do something about it."
Ways to save, expert investment advice, scam alerts and more! — AARP Money Newsletter »
Among steps institutions can take, according to the CFPB:

Train employees to prevent and detect exploitation, and report cases of it to state, local or federal authorities in a timely manner.
Develop relationships with law enforcement and Adult Protective Services.
Allow customers to designate a trusted person whom the institution can contact and share account information with if financial abuse is suspected.
Offer so-called convenience accounts that allow customers to add a person to their account to make transactions only on their behalf, such as paying bills. The added person is not an owner of the account, unlike with a joint account. The risk of joint accounts is that someone added to it is free to spend all the money or can have his or her creditors stake a claim to it.
Allow customers to give a trusted person view-only access to an account to monitor it for suspicious activity.
Expand the use of technology to detect exploitation of older customers. Institutions already use technology to uncover suspicious activity, such as money laundering.
Give consumers information about how to plan for financial incapacity.
Naomi Karp, senior policy adviser in the CFPB's Office of Older Americans, says the agency reached out to big and small banks and credit unions, trade associations, law enforcement and Adult Protective Services before coming up with its recommendations.
"We found that all of the institutions we talked to are aware of the problem," Karp says. "They are concerned about their older account holders, but they really run the gamut on how robust their approaches to it are."
Some large banks have teams dedicated to tackle this type of fraud, while smaller institutions have taken creative approaches, Karp says. A small bank in Texas, for example, runs a fraud-busters program in which tellers are trained to detect fraud and then are widely recognized within the bank when they "catch a thief" or protect an older account holder, she says.
That said, Karp adds, services such as view-only access to statements and convenience accounts are not widespread.
Get discounts on financial services from trusted companies — AARP Member Advantages »
Jilenne Gunther, AARP's BankSafe project director, says the CFPB outlines many promising practices.
"If financial institutions want to fight exploitation, they really have a lot of things they can look at to see what they want to incorporate," Gunther says. "We think there is a strong business case for it. Four out of 5 people over the age of 50 want their banks to protect them against exploitation."
AARP has advocated for better training of employees at financial institutions to detect and prevent financial exploitation of customers — something most customers surveyed want, too.
Photo: Atic12/istock
Also of Interest

See the AARP home page for deals, savings tips, trivia and more.