Cheap Alternatives to Christmas Trees
By Jeff Yeager, December 03, 2012 10:44 AM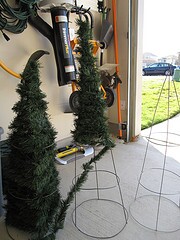 I've shared in this space my top tips for buying and caring for a live Christmas tree. Well, at least it was "live" before somebody cut it down. You know what I mean. But admittedly a live tree doesn't suit everyone's lifestyle or tastes.
See also: Control Your Holiday Spending.

Of course, there are an endless variety of artificial trees, many of which are deeply discounted immediately following the holidays. If you're in the market for one after the holidays, be sure to ask about further discounts on "display models" used in the stores. And for some real bargains, check with your local thrift stores a couple of weeks after the holidays, when many folks donate their "lightly used" artificial trees and other decorations rather than store them away for next year.

But a live tree or an artificial store-bought tree aren't your only Yuletide options. Check out these creative - and affordable - ideas for a truly unique Christmas tree:

Wall Tree: If you're really short on space, make an attractive "wall tree" by using tree branches or other sticks cut to length. Drill a hole through each end of the branches, and fastened them directly to a wall or to a piece of light plywood using drywall screws, leaving a little space between the branches and the wall. Add lights (hiding the cord behind the branches), "cotton snow," and decorate with ornaments 'til your heart and little tree are content. Tiny pine cones look right at home on this type of tree, and it's a perfect place to display treasured little trinkets and keepsakes that would be lost on a larger, "3-D" tree. Sometimes less is more.

Tomato Cage Tree: If you grow tomatoes in the summer, don't put away your tomato cages at the end of the season. Turn them into decorative tabletop-sized Christmas trees. "Tomato cages" are the cone-shaped wire frames you use to keep tomato plants from toppling over as they grow. You can buy them at most garden supply for a few dollars apiece. At the holidays, just wrap them with artificial garland and decorate with lights and tiny ornaments. A single tomato cage tree is a great way to add holiday cheer to even the most compact living space, or decorate the whole front yard with an entire forest - they're cheap and easy.

Book Lover's Tree: No space for a Christmas tree because you have too many books piled up around the house? Get creative and make a tree out of your book collection! Just stack books in a circle, one layer on top of another, making a cone shaped "tree" to a height and diameter to fit both the space and number of books you have to work with. Add a string or two of colorful lights, and maybe some ornaments and a little cotton snow. One word of warning though about a book lover's tree: Make sure to keep your copies of books like A Christmas Carol and How the Grinch Stole Christmas accessible, near the top of your book tree, so you don't topple the whole thing when you go to read them over the holidays!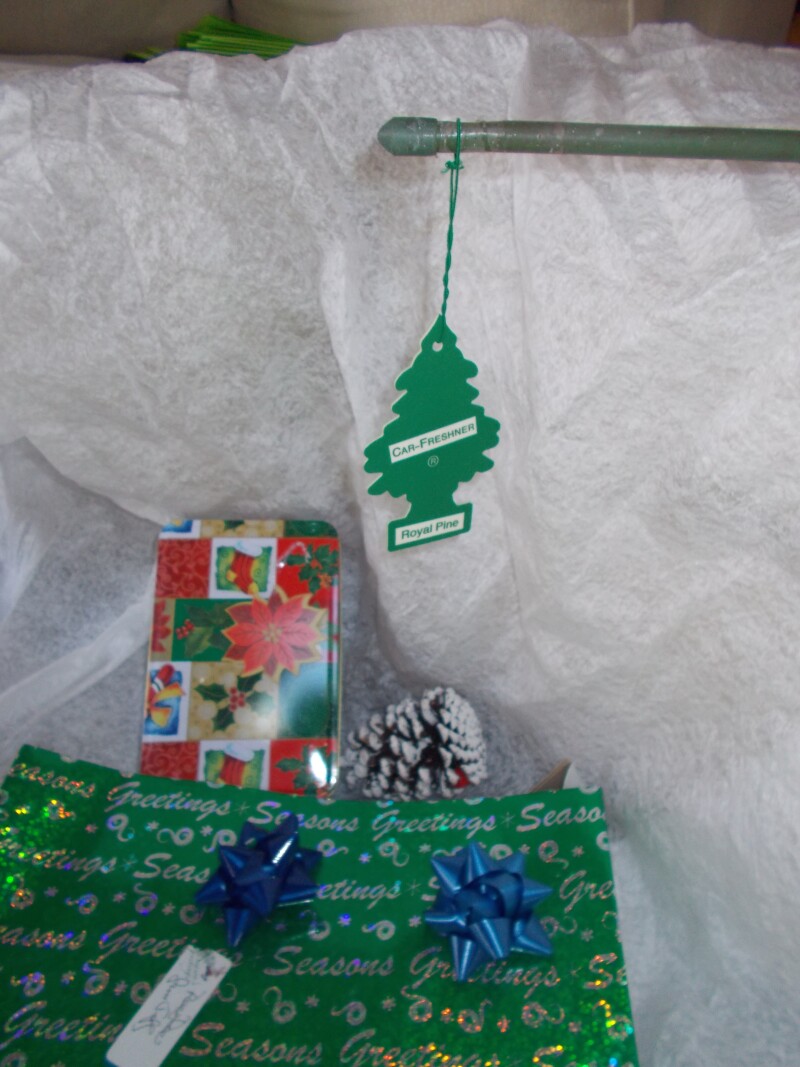 The Ultimate, Ultimate Cheapskate's Christmas Tree: And finally, in the spirit - and good humor - of the holidays, check out this "car freshener Christmas tree" designed by my cheapskate friends Caroline and David Llewellyn, and have a good Ho-Ho-Ho. "It even makes the house smell like pine," Caroline adds with a wink. And I thought I was cheap.

Photo credit: roger mommaerts via Flickr.