Cheap, Easy Ways to Store Holiday Decorations
By Jeff Yeager, January 07, 2013 11:05 AM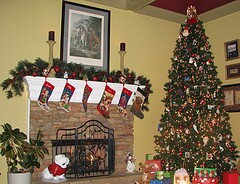 The late Andy Rooney once wrote: "One of the most glorious messes in the world is the mess created in the living room on Christmas Day. Don't clean it up too quickly."
I agree, and I've also always argued that you shouldn't be too hasty when it comes to picking up after the year-end holidays in general. After all, how many times a year do you have a tree inside your house, hosiery decorating your fireplace mantel, and a whole herd of moose-shaped eggnog mugs proudly on display in the family room?

See also: Extend the life of your poinsettia.

But even for the most nostalgic holiday-decoration procrastinators among us, as mid-January approaches, we must accept the fact that the tree has now officially lost all 7,445,678 of its needles and the last of the eggnog has been drunk until next year.

I told you a few weeks ago about the plant-care regimen you should continue to follow throughout the next 11 months to ensure the survival of your poinsettia until next Christmas. And more recently, I shared with you my tips for using up your leftover holiday fruitcake ... or, if you prefer, varnishing it to keep as a lasting holiday decoration.

Now, here are some other cheapskate tips for packing away, and getting the most mileage out of, your holiday decorations:

Store rolls of unused wrapping paper in pairs of worn-out panty hose (one roll per leg), which can then be hung on clothes hangers in a closet. This keeps the rolls neat and the ends tatter free. You can also store them in an old garment or suit bag hung in the closet.
Wrap strands of holiday lights around a flat pizza box to help keep them from tangling; you can even store spare bulbs and extension cords inside the box, so you can find them next Christmas.
Old suitcases make perfect, indestructible packing cases for fragile ornaments, artificial wreaths and other precious decorations. Save bubble wrap and foam packing peanuts you receive throughout the year to use as extra cushioning.
When storing ornaments and, particularly, holiday items made from fabric, add a couple of fabric softener sheets to each storage box to deter moths and mold/mildew. Also, if you live in a humid climate, add a couple of briquettes of charcoal (placed inside a sock that's missing its mate) to storage boxes to help absorb moisture.
Egg cartons are perfect for storing small ornaments and other tiny holiday treasures.
If you have the space available, storing batteries used in holiday decorations as well as holiday candles inside the freezer will make both last longer. Regardless, always remove batteries before storing electronic items, and keep candles in cool places to prevent them from melting during the hot summer ahead.
Recycle your Christmas tree. If you have a real tree, leaving it by the curb for the trash collector doesn't necessarily guarantee that the tree will be recycled into compost or mulch, which is the eco-friendly method of disposal. Take a minute to check with your garbage and recycling services to determine the ultimate fate of your tree, and if they don't recycle trees into mulch/compost, go to this website to find a facility near you that does. After all, doesn't your special tree deserve a proper send-off?
Last, but not least, save the holiday cards you received this year to make gift tags of and to decorate packages with next year. Or start the tradition my wife and I have with a circle of our cheapskate friends: Every year we've agreed just to send each other's cards back and forth with everyone on our list. And you thought you were frugal.
Photo by Richard ugadawg 1990 via Flickr.