Cheap Ideas for Family Fun
By Jeff Yeager, July 8, 2013 10:45 AM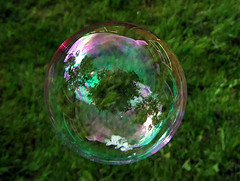 When you're a kid, it's funny how quickly your summer vacation mood turns from "I'm free!" to "I'm bored." With at least a few weeks remaining before the school bells ring once again - and parents everywhere cheer " We're free!" - it's little wonder that July is "Anti-Boredom Month." That's right, the time of year when boredom is so prevalent that we need an official, month-long campaign to combat it.

If you have kids or grandchildren to keep amused between now and the time school starts, here are some ways to celebrate Anti-Boredom Month without breaking the bank:

Homemade Super Soakers: Any squeeze-style plastic bottle from a nontoxic product can be thoroughly cleaned out and filled with water to make a homemade squirt gun. In fact every squirt gun I ever bought at the store as a kid inevitably paled in comparison to the fun and water pressure we could generate from a few empty dishwashing soap bottles, shampoo bottles, or the like.
More Wet and Wild Fun: To stay cool and wile away the lazy days of summer, take a two-liter plastic soda bottle and punch lots of holes in it with a nail or Phillips screwdriver. Buy an inexpensive plastic hose coupling ("male to male" fitting) at the hardware store, and attach the garden hose to the bottle, then hang the bottle over a tree limb in the backyard. Turn on the hose and you have a multi-stream fountain head to play and dance under on a hot summer day, your own backyard fountain of Versailles.
Biggest Bubbles Ever: Nothing says "good old summertime" like blowing clouds of bubbles in the backyard. To make the biggest, longest-lasting bubbles you've ever seen, just mix together three cups of water, with one cup of liquid dishwashing detergent and one-half cup white corn syrup. And a repurposed coat hanger (metal or plastic) makes a perfect - and free - giant bubble wand.
Rainy Day Fun: If you're lucky enough to have a rainy day this hot summer, keep the youngsters (and yourself) amused with some leftover bubble wrap, acrylic paints, and blank paper. Use the paints to create designs and pictures by painting individual bubbles on the bubble wrap, like the dots on an old-fashioned dot-matrix printer. Before the paint dries, press a sheet of paper on it (like an even older-fashioned printing press) to transfer a reverse image of the design on to the paper. Then you can just lightly moisten the paint with a spray bottle of water to make multiple prints of the same image. Who knows? You may just be mentoring the next Andy Warhol.
So pull out all the stops - but don't pull out your wallet - to celebrate Anti-Boredom Month with the kids this July.

Photo credit: Ali Smiles via Flickr




Also of Interest

Join AARP: Savings, resources and news for your well-being


See the AARP home page for deals, savings tips, trivia and more