Cheap Super Bowl Party Recipes
By Jeff Yeager, January 25, 2013 11:59 AM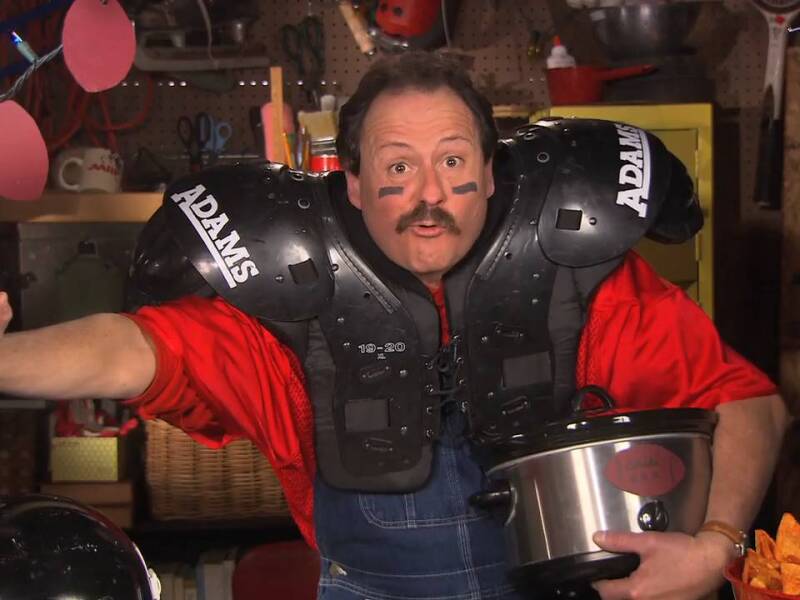 Here's what the Ultimate Cheapskate will be cooking to feed a houseful of hungry football fans during the big game, all without getting my piggy bank benched or my bank account sacked.

Shredded BBQ Chicken

Chicken wings have become so popular they're expected to sell for record prices and even be hard to find. Here's a way to get all that wonderful wing flavor for a fraction of the cost, cooked in your in slow cooker, of course.

3 pounds (without bones and skin) raw chicken meat - any cuts (I like to mix white and dark meat)
2 cups barbecue sauce
½ cup cider vinegar
½ cup brown sugar
½ can (6 ounces) beer - optional
1 tablespoon liquid smoke
Chili powder and/or hot sauce to your heartburn's desire
Salt and pepper to taste
8 hamburger buns
Blue cheese dressing and/or coleslaw (optional)


Shred the chicken meat by pulling it apart or slicing it with the grain. Spray the inside of your slow cooker with spray cooking oil to make cleanup easier, then mix all ingredients (except the buns and blue cheese dressing/coleslaw) with the chicken in the pot. Cook for 5 hours on high. Serve on hamburger buns, topped with blue cheese dressing and/or coleslaw if desired. (makes 8 servings)

Loaded Corn Bread

This is a great recipe for using up little bits of leftovers you have on hand; even if you don't have all of the ingredients listed, just make it with those you do have. And since it starts with inexpensive boxes of cornbread mix, it costs hardly anything to make.

2 boxes corn bread mix (along with the eggs and milk called for on the package)
1 can kernel corn or 1 can hominy (I prefer a mix of the two)
¾ cup cooked bacon bits or diced ham
½ cup chopped nuts (I prefer pecans)
1 cup shredded cheese (most any type will do, and you can even use cottage cheese or ricotta)
Toppings of your choice: consider salsa, sour cream, more cheese, more bacon, etc.


Prepare the cornbread mix according to the instructions on the box. Blend the other ingredients (other than those reserved for the toppings) into the corn bread batter, and bake in a greased ovenproof dish according to the mix instructions and until the center of the bread is fully cooked. Cut the cornbread into squares and top with whatever topping you desire, like nachos.

Grilled Jalapeno Poppers - Margarita Style

This is an incredibly tasty - and at least slightly healthier - version of those popular deep fried jalapeno poppers. You can also skip the tequila, if you'd like. (Just send it to me instead.)

12 fresh jalapeno peppers
½ pound mozzarella cheese (you can also use cream cheese or cheddar)
¾ cup olive oil
¼ cup tequila (optional)
Juice of 1 fresh lime
2 teaspoons salt (I prefer coarse/kosher salt)
Turn up the heat with more great recipes!
PUT ON RUBBER GLOVES! Then cut a slit in each pepper and carefully remove the seeds and white parts of the inside, leaving the peppers intact with the stems still attached. Heat approximately 8 cups of water in a pot until it's boiling, then plunge the peppers into the still boiling water for 10 minutes. Remove the peppers and next plunge them into a bowl of cold water and ice cubes. Once the peppers are cold, put them in a bowl and (still wearing your gloves!) coat them with the tequila and lime juice, and then the olive oil. Allow to marinate overnight, unrefrigerated. (You can take off your gloves overnight.) Cut the cheese into little sticks or wedges sized to fit inside the peppers. Put your rubber gloves back on, remove the peppers from the marinade, and insert a piece of cheese in each pepper. Sprinkle the outside of each pepper liberally with coarse salt. Grill the peppers on the barbecue or in a pan under the broiler until the skin starts to char and the cheese is nice and melted, turning once. And, oh yeah, it's safe to take off your gloves now.

As for potato skins, plenty of recipes here. I can't decide!

Enjoy the game and Bon Appe-cheap!