Cheap Tips for the Outdoors
By Jeff Yeager, July 29, 2013 11:33 AM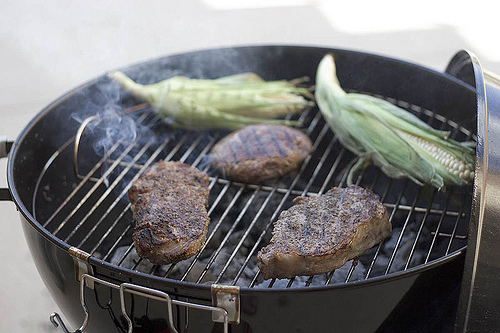 With summer nearly half over, your outdoor living areas and accessories probably need some halftime sprucing up. Here are some inexpensive ways to refresh your patio and deck areas so that you can really enjoy the final weeks of summer.
Homemade outdoor furniture cleaner: Are your lawn chairs looking a bit begrimed? Plastic and vinyl outdoor furniture can be cleaned by wiping it down with a mixture of ¼ cup dishwashing soap, ½ cup bleach, in one gallon of water, then rinsing it with clean water. Whenever working with bleach always use rubber gloves and protective eyewear.
Ecofriendly and wallet-friendly ways to control outdoor pests: Don't let pesky insects ruin the rest of your outdoor summer fun. There are loads of ways to deter mosquitoes without resorting to toxic, expensive poisons; check out all my mosquito-fighting tips here, including a spray made from spent coffee grounds. Coffee grounds sprinkled around outdoor areas will also keep ants away (although it might attract coffee drinkers). And hanging a plastic baggie filled with water and a few pennies in it near areas prone to attracting flies is said to keep flies at bay, even though no one seems to know why.
Clean slippery wooden deck surfaces: If you live in a humid area like we do, this time of year there are probably portions of your backyard wooden deck that are algae-covered and slick when wet, creating an unsightly - and unsafe - surface. They can be easily and inexpensively cleaned just by dousing them with either hydrogen peroxide or white vinegar, letting it soak in for a minute, then scrubbing it with a soft bristle brush for about 30 seconds. Hose it off with water and repeat if necessary, although usually once is enough.
Look for seasonal markdowns: Even though there's still plenty of warm weather to come, many retailers start marking down seasonal items like outdoor furniture and grilling equipment once summer reaches the halfway point. You'll likely save even more if you wait until summer is officially over, but by then selections may be limited and you won't be able to enjoy your new outdoor accessories before packing them away for the winter. Now may be the best time to trick out your outdoor living spaces.
De-gunk your grill: Remove greasy build up on the old barbecue grill with a scouring pad made from a wad of repurposed aluminum foil and a paste of baking soda mixed with a little water. Once you've given it a good scrubbing, remove the paste and residue with some distilled white vinegar, and watch the grime disappear.
Unusual tip for removing patio stains: Last but not least, if you have a grease or other stain on a flagstone or concrete patio, try removing it with - of all things - shaving cream! That's right. Just spread shaving cream on the stain, let it soak in for about 20 minutes, then wash it off with hot water. Only cheapskates know these kinds of secrets.
Photo: pegwinn/Flickr


Also of Interest

Join AARP: Savings, resources and news for your well-being


See the AARP home page for deals, savings tips, trivia and more