Check Out These Money-Saving Rental Car Tips
By Jeff Yeager, December 9, 2013 12:18 PM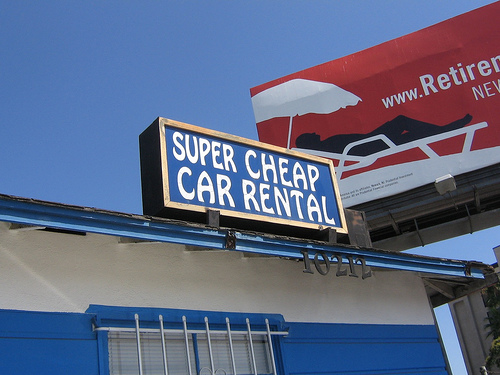 Make multiple reservations: Most rental car companies allow you to make and cancel reservations easily and without penalties. It pays to make reservations with a number of companies as far in advance as possible, then check back later to see if lower rates become available. Rental car rates fluctuate frequently based on supply and demand. Most travel websites let you easily compare rates among major rental car companies. Sites like CarRentals.com and CarRentalsExpress.com compare rates among independent, budget-priced rental agencies not listed on most other sites. The website AutoSlash.com tracks your rental reservation and rebooks it if the rate drops or if the site finds a new coupon or promotional code that applies.
Avoid airports: Airport and other municipal fees usually make renting a car from an airport location the most expensive option. In most situations, it pays to hop on public transportation or even take a taxi to the nearest rental agency outside the immediate airport area. Or you may want to try something I've done in the past: Take a free airport shuttle to your hotel, then arrange for Enterprise Rent-A-Car to get you at the hotel and take you to one of its non-airport locations to get a lower rate. (Enterprise picks you up and drops you off for free.)
Think small: Unless you really need a large or more luxurious car, reserve the smallest, least expensive car available (and you might just get a free upgrade). Oftentimes that rock-bottom-priced vehicle won't be available when you arrive, so the upgrade is on the house. And even if the least expensive car is available, you can sometimes score a free upgrade just by asking nicely.
Pass on the discount gas: Many companies offer you the option of paying a reduced rate for the gas already in the tank, with the understanding that you can then return the car empty. Although the low price per gallon is tempting, if you end up leaving more than a gallon or two in the tank (which many drivers inevitably will), then you lose. Instead, I ask for the estimated miles per gallon (MPG) for the car I'm renting. I note the starting mileage and do the math based on that estimated MPG to put that amount of gas back in the tank before I return the car. If the fuel gauge isn't exactly where it was when I picked up the car, I show the receipt for the gas I just purchased, confirm how far I drove, and insist that the company must have misrepresented the MPG for the car I rented.
Check your insurance: Purchasing the optional insurance coverage offered by rental companies can sometimes more than double the total cost of the rental, and in many cases, it's unnecessary. If you have an auto insurance policy for your own vehicle, check with your insurance agent, since that policy may very well cover you while driving a rental. Also, some credit card companies provide automatic insurance coverage if you use their card to charge the rental. Ask your card company if that's a benefit.
Consider different drop-off options: While most rental agencies charge extra if you drop a car off at a location outside the metro area in which you rented it, many will allow you to drop it at another location within that area for no extra charge. When I visited a friend recently, I rented a car near his suburban home, but saved myself a cross-town cab fare by dropping it at the train station when I departed for home.
Do negotiate: The rental car industry is highly competitive. Companies place a premium on keeping customers happy so they'll keep coming back. It never hurts to ask one final time before you pick up the car to see if the company can do any better on the price or maybe throw in an upgrade. I did just that on my last rental, and sure enough, the agent produced a newly minted promotional coupon that gave me an additional 10 percent off. Not bad.