Customers Still Baffled by Overdraft Fees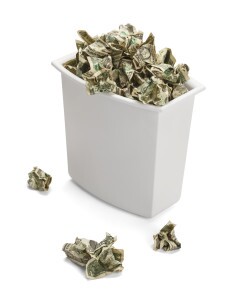 Customers who say they don't recall authorizing their bank to provide overdraft protection on their checking accounts are getting hit with overdraft fees totaling $90 or more, according to a new report.
It's been four years since federal rules took effect that required banks to ask customers to opt in if they wanted overdraft protection on the debit cards tied to their checking accounts. The rules were supposed to make it easier for customers to understand when banks could charge them fees for covering the shortages in their accounts.
Apparently, bank customers remain as confused as ever, the report by the Pew Charitable Trusts found.
>> Sign up for the AARP Money newsletter
More than half of adult bank customers who paid an overdraft fee on a debit card transaction in 2013 say they don't recall opting in to get the overdraft protection, according to the report, which was released Thursday.
Customers say they paid overdraft fees averaging $69, and some paid a total of $90 or more. The typical fee was $35, though banks may charge extra fees if the shortage in the account isn't covered quickly.
About those debit card transactions that caused an overdraft - most of them were for $50 or less.
Younger people were more likely to be hit with overdraft fees, but older adults weren't immune: 18 percent were between the ages of 50 and 64; 5 percent were 65 and older.
According to the Pew report, most customers say they'd rather be declined for a transaction that exceeded their funds - the consequence for not consenting to overdraft protection - than pay an overdraft fee of $35.
The Consumer Financial Protection Bureau has been looking into overdraft fees since last year. It estimates that 60 percent of a bank's consumer checking account fee income comes from these charges.
>> Get travel discounts with your AARP Member Advantages.
According to a CFPB study that examined bank fees before and after the federal regulations were put into effect, consumers who consented to bank overdraft protection ended up with higher costs. Account holders who opted out reduced their overdraft and non-sufficient fund fees, on average, by more than $450 in the second half of 2010.
If you're not certain about your situation, check with your bank to see if you opted in to overdraft coverage. If you did, make sure you understand the policies and fees. You may also want to check with your bank to see if you can link your debit card to your savings account or a credit card. It may be a better option than the average overdraft fee that your bank will charge.
Photo: Mega_Pixel/iStock
Also of Interest

See the AARP home page for deals, savings tips, trivia and more