Devilishly, Deliciously Cheap Football-Watching Recipes
By Jeff Yeager , August 29, 2013 09:20 AM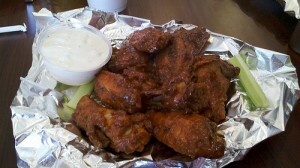 With fall here and the football season underway, here are the recipes for some of my favorite frugal tailgating fare. Notice the names of the recipes. Do you detect a theme? That's right, I'm playing the devil's advocate with these devilishly delicious dishes, but in each case the spices can be reduced or even eliminated to turn down the heat factor. Be sure to wear rubber gloves when handling hot peppers and spices.
Devil's Inferno Crock Pot Wings
If you can't stand the heat, leave your crock pot in the cupboard and don't try this dish -- or reduce the hot ingredients to your taste.

12 chicken wings
1/2 cup horseradish
6 cloves garlic - pressed or minced
1 can (4.5 ounces) diced chile peppers
4 jalapeno peppers (fresh or pickled) - minced, seeds removed
1/3 cup cider vinegar
1/3 cup ketchup or BBQ sauce
1/4 cup Tabasco sauce
2 teaspoons honey
Cut the tips off the chicken wings, then cut each wing in half at the joint to make two pieces. Place in a mixing bowl or directly in the crockpot. Mix the horseradish and garlic together, then thoroughly coat the wings with it. Mix all of the remaining ingredients in a separate bowl, then add it to the wings and toss until all the wings are coated. Place bowl in the refrigerator and let the wings marinate overnight. The next day, cook the wings in the crockpot (covered) on low heat for 6-8 hours. Serve with blue cheese or ranch dressing and celery sticks to help cut the heat... if you're a wimp!
Diablo Chili Con CORNY
A great one-pot dinner, with the bread - or, in this case, cornbread dumplings - cooked right on top. Inexpensive and healthy beans, corn, hominy and tomatoes make this a particularly nutritious and budget friendly dish.

2 pounds ground beef
1 large yellow or Vidalia onion - chopped
6 cloves garlic - crushed
12 jalapeno peppers - fresh, seeded and finely chopped
6 habanero peppers - diced
1 tablespoon chili powder or cayenne
1 can (~16 ounces) of EACH of the following: whole kernel corn, hominy (white or yellow), pinto beans, kidney beans
1 large can (28 ounces) crushed tomatoes
Water
1 box cornbread mix (8.5 ounces) - with milk and egg(s), per instructions on the box
2 tablespoons Bisquick
1/2 cup shredded cheddar cheese (optional)
1/4 cup bacon bits (optional)
Brown the ground beef in a frying pan, adding the onion, garlic, peppers, and chili powder/cayenne; continue cooking until the onion starts to become translucent. Place beef mixture in a large, deep pot, and add all of the canned vegetables/beans, including the liquid from the cans. Add two cups of water, and stir. Bring to a boil, then reduce heat and simmer for about 3 hours, partially covered. Before adding the cornbread dumpling mixture, you may want to add more water to ensure adequate liquid for the dumplings, then return to a simmer. Prepare the cornbread mix according to the instructions on the box, adding the Bisquick as well; fold the cheese and/or bacon bits into the dumpling batter, if desired. Carefully drop spoonful of the batter onto the top of the chili. Cover and continue to simmer for approximately 20 minutes, until dumplings are cooked through.
Dare Deviled Eggs
Deviled eggs are always a potluck pleaser, providing an affordable source of inexpensive protein as well. Plus there a lot of nifty ways to repurpose the eggshells, as I show you in this video. Try this spicy twist to a tailgating classic.

1 dozen eggs - hardboiled and shelled
1/3 cup mayonnaise
3 cloves garlic - pressed or finely minced
1 teaspoon cayenne pepper or chili powder
2 jalapeno peppers - fresh or pickled, thinly sliced, seeds removed
Tabasco sauce
1/2 cup cilantro - chopped (optional)
Cut the eggs in half and place yolks in a mixing bowl. Mash the yolks with a fork, then stir in mayonnaise, garlic, and cayenne pepper, blending thoroughly. Fill the egg halves with the yolk mixture and place on a serving tray. Drizzle a little bit (or a lot!) of Tabasco sauce on each egg, and put a slice of jalapeno on top. Sprinkle cilantro over the tray for an interesting taste contrast with the spiciness.
Happy Labor Day and tailgating season! Bon appe-cheap!

Photo: djaquay Flickr
Also of Interest

Join AARP: Savings, resources and news for your well-being
See the AARP home page for deals, savings tips, trivia and more. You can also get some great crock pot tips from the Cheap Life's Jeff Yeager:

[Photo via Flickr Creative Commons / Rusteford http://bit.ly/193bMNq]