Don't Become a Credit 'Mule'
Cash-desperate consumers are being lured into becoming unwitting "credit mules" via a cellphone scam, the Federal Trade Commission warns.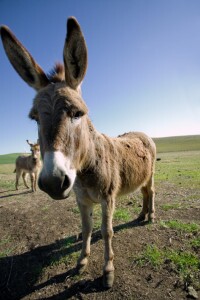 Con artists pay targets a couple hundred dollars to sign up for wireless contracts for iPhones and other mobile devices, the FTC says. The consumers then turn over the smartphones to the scammers, who "unlock" the phones so they can be used by others. The phones then are often sold overseas, where they can fetch from $500 to $1,000 apiece, says Nat Wood, an assistant director in the FTC's bureau of consumer protection.
>> Sign up for the AARP Money newsletter
Scammers tell victims they will be able to cancel the contracts later, the FTC says. However, when they try to do so, they can't because they no longer have the phones to return. The victims now owe money for the phone and the monthly service fees. Their money troubles increase and their credit record is damaged.
These victims are called credit mules because their identities and credit are used by others to acquire phones.
A Denver television station reported on alleged credit muling at a local mall there. In that broadcast, a Sprint attorney said his company has filed about 40 lawsuits around the country involving credit muling.
The FTC's Wood says victims tend to be the homeless, college students and others in need of fast cash.
>> Get travel discounts with your AARP Member Advantages.
It's unclear how widespread the problem is, although the FTC is asking people to contact the agency if they have been a victim or have been approached by someone to buy cellphones this way.
Photo: Modernschism/iStock
Also of Interest

See the AARP home page for deals, savings tips, trivia and more